Rand Paul at a Crossroads
The potential presidential candidate finds himself at a politically dangerous intersection.
by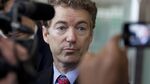 Your move, Rand Paul.
The Republican victories deep and wide across the American electorate on Tuesday provided encouragement for the party's presidential contenders considering campaigns in 2016. Each could parse the results to justify a potential candidacy, and many did just that.
What the results didn't do was end the fight for control of the party between Tea Party conservatives and the party's traditional pro-business base. And the person who finds himself at the politically dangerous and increasingly interesting intersection of that battle is U.S. Senator Randal Howard Paul.
The Kentucky Republican eagerly aided establishment candidates during the general election, starring in a TV ad for North Carolina's Thom Tillis after endorsing Tillis' primary opponent, and sought to help broaden the party's appeal to minority voters who traditionally support Democrats.
Yet Paul's more ideological supporters, including those who applauded his 13-hour filibuster last year against one of President Barack Obama's nominees, are often at odds with Republican leadership.
With Republicans taking over both chambers of Congress—and a call from all corners of the party to show they can govern—Paul will more than ever find himself in a position to choose between the two sides, or possibly mediate between them. His agility will be closely watched as lawmakers return for a lame-duck session next week, and again in January when the new Congress is sworn in and Republicans control debates on spending, national security and immigration.
"He has to reconcile his vision for a more successful Republican Party with some of his ideological thinking, which will end up in cross purposes with that goal," said Mike Murphy, a Republican strategist. "But he is a good and thoughtful spokesman. Where Ted Cruz tends to divide everything into us vs. them, Rand Paul doesn't."
Cruz, a U.S. senator from Texas who is also considering a presidential campaign, may be in the most awkward position after the elections. His popularity within the Tea Party movement has depended largely on his willingness to buck Republican leaders and push to repeal Obamacare, no matter the political cost. Now, as Republican leaders acknowledge that they must show voters that they can unite and govern, Cruz's confrontational style may wear thin.
He again called for an end of the health care law after Tuesday's elections and has refused to say whether he will support Paul's fellow Kentuckian, Mitch McConnell, as the next Senate majority leader. "Now is the time for Republicans to come together in unity, to stand as one, and to stand for principle and to say we will honor the trust you have placed in us," Cruz told supporters.
For Republicans in general, it was a very good night–and it was particularly good for a handful who might have presidential aspirations.
New Jersey Governor Chris Christie, as chairman of the Republican Governors Association, oversaw a run of victories in key battleground states and in Democratic strongholds, including Illinois, Maryland and Massachusetts. Wisconsin's Scott Walker, a favorite among conservative voters for his willingness to take on unions, won his third governor's race in four years. U.S. Senator Marco Rubio of Florida has spent the past year giving policy speeches—calling for a consolidation of antipoverty programs and to increase the retirement age for young workers—while positioning himself as a lawmaker at a time when legislating will be a Republican priority.
Hogan Gidley, a South Carolina-based Republican consultant, said the party may be learning valuable lessons. 
"For all the talk about Republicans and their infighting, Rand Paul and Ted Cruz all came out to help the so-called establishment candidates," Gidley said. "So there's some good will there. And the electorate is rejecting gridlock. There's no mandate now for Republican policies." 
Paul, 51, already appears to be pivoting toward 2016. While voters were still being cast Tuesday, Paul was spinning the early results as a repudiation–not just of Obama, but also of Hillary Clinton, who is widely expected to become the Democratic presidential nominee.
By the time polls closed, Paul's official Facebook page had posted a photo album called #HillarysLosers, featuring pictures of Clinton with defeated Democrats.

The next morning, Paul began portraying himself as a dealmaker in the Senate, saying that both parties should come together to let U.S. companies repatriate as much as $2 trillion in offshore profits at a reduced tax rate. That's a plan should please companies such as Apple and Google, which pushed for such a tax holiday in 2011. It never got far in Congress, but the prospect of tapping that kind of cash has tantalized lawmakers for years. 
"We can have a narrowly focused bill that reduces the tax rate on bringing your money home and we could put some of that money into roads and bridges," Paul told Fox News. "This would be a good way to kick it off in January."
On other issues, Paul has already found it difficult to square his views with the party mainstream. He's been more reluctant than most Republican presidential contenders to involve U.S. in global issues. In 2011, he proposed an end to all foreign aid, and has since suggested freezing such funding at $5 billion annually. In an Oct. 23 speech he described his views on foreign policy as "conservative realism" and said that the U.S military drones "inadvertently kill civilians may create more jihadists than we eliminate."
Paul has sought to broaden the party's appeal by supporting a halt to mandatory-minimum sentences for low-level drug offenders and backing measures to restore voting rights for certain felons, changes generally opposed by Republicans. But he also opposed the bipartisan immigration overhaul the Senate passed last year, including measures that party leaders said would appeal to Hispanic voters.
"The message from the American people is that we want government to work," said Bruce Rastetter, a leading Republican fundraiser in Iowa, home of the nation's first presidential nominating contest. "When you're in the minority it's hard to be united, because you can't actually do anything. Now, for the first time in a long time, they'll have the opportunity to send legislation to the president. And they need to do that."
Before it's here, it's on the Bloomberg Terminal.
LEARN MORE