Kansans Trust Brownback's Budget Fix After He Stripped It Bare
Esmé E. Deprez and Jennifer Oldham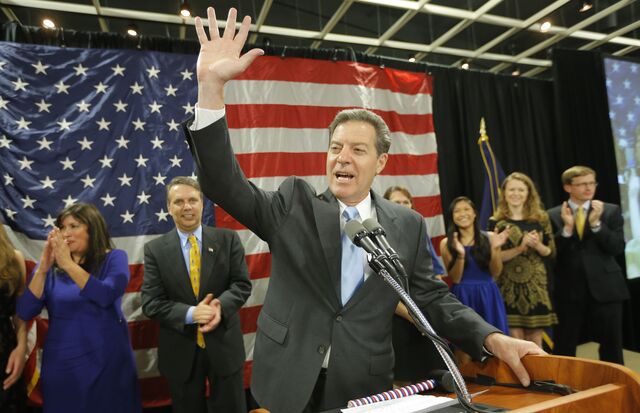 Kansas voters looked at the numbers and didn't blink.
Governor Sam Brownback's tax-cut crusade converted a $700 million surplus into a $260 million projected deficit. It led detractors within his own party to predict that his vow to accelerate the plan spells disaster for Kansas schools and quality of life. Give him another term, the incumbent said, and he would usher in prosperity through austerity.
By re-electing him Nov. 4 with 50 percent of the vote, Kansans took that leap of faith.
"Two years isn't enough time to figure out whether it worked or not," said Tim Bannwarth, a 37-year-old accountant and registered Libertarian from Lawrence after voting inside the Central United Methodist Church. "I wanted to give him four more years."
The win by Brownback and Tea Party candidates in states including Arkansas, Maine and Virginia shows how the anti-tax, anti-government wing of the Republican Party is in many ways stronger than ever. In Kansas, the movement scored electoral victories even after moderate, business-oriented Republicans abandoned the candidates who championed those policies.
Tea Party-backed Dave Brat, a Virginia economics professor who unseated House Majority Leader Eric Cantor in the primary, beat Democrat Jack Trammell. Maine Governor Paul LePage, seen as one of the most vulnerable state leaders heading into Election Day, toppled Democratic challenger Mike Michaud. In Arkansas, Army veteran and Harvard law school graduate Tom Cotton ousted Senator Mark Pryor, who had won re-election six years ago with 80 percent of the vote.
Norquist's View
Grover Norquist, president of Americans for Tax Reform, the Washington-based group that pressures members of Congress to sign a no-tax-increase pledge, said the Tea Party's mantra of less spending and smaller government has been fully absorbed by a party that once viewed it as radical.
"The Tea Party ethos of focusing on spending restraint is the modern Republican party, is the establishment," Norquist said in an interview. "So how's the Tea Party doing? It took over Congress, that's what it did. It won."
After representing Kansas in the U.S. Senate, Brownback won the governorship in 2010 and set out to make his state a laboratory to test the theory that economic growth would more than make up for revenue lost to lower taxes. By 2012, he had signed legislation to reduce levies on those who earn most and to eliminate income taxes on most small businesses.
Rating Cuts
Opposition grew as the employment and population surges that he said would follow didn't. Revenue dropped about $335 million more than forecast, ratings companies downgraded state credit and the legislature's nonpartisan researchers projected a shortfall in fiscal 2016.
The state cuts aid to schools, health services and libraries during the recession that ended in 2009. Replacing that became nearly "nearly impossible," according to a December report by the Kansas Center for Economic Growth, a nonpartisan research firm. About 65 counties, or more than half, raised property taxes in 2013 to fill the hole created during the recession and by the tax cuts.
Brownback, 58, held firm. He pledged to cut taxes to zero in his second term.
"It's been a tough four years," he told reporters after a victory speech.
"Now we're positioned to grow," he said.
More Cuts
Brownback hasn't said where the next round of spending cuts will come from, and he is due to present his budget in January. A group of state officials and university economists that advises the governor and the legislature has a Dec. 4 deadline to release its initial estimate showing the condition of Kansas' general fund for the next budget year and revise its estimate for the current year.
"If we continue to bring in money and spend money as we currently are set to do, we will be below zero in the general fund" by year-end, said Annie McKay, executive director of the Topeka-based Center for Economic Growth. "Do we take from parks and rec to fill a hole in public safety?"
Kansas ranked as the fourth-worst U.S. state in economic health for the first half of this year, according to the Bloomberg Economic Evaluation of States. That's down from seventh-best for all of 2013. The index measures tax collections, home prices, mortgage delinquency, job growth, personal income and performance of local company shares.
Borrowing Costs
Though Kansas doesn't issue general-obligation debt itself, rating cuts from Moody's Investors Service in April and Standard & Poor's in August may raise borrowing costs for its agencies and municipalities.
The Moody's downgrade to Aa2, two steps below the top, affected $2.8 billion of debt. That included bonds for highway improvements, like those the state issued in July.
A portion maturing in September 2030 traded last week with yield 0.43 percentage point more than benchmark munis, the most since August, data compiled by Bloomberg show. Higher yields on long-maturity debt can equate to millions of dollars of extra debt-service payments over the life of the securities.
Eileen Hawley, Brownback's spokeswoman, declined requests for interviews with the governor and his budget director, Shawn Sullivan.
John Ferrier, a 63-year-old machinist and lifelong Republican from Ozawkie, near Topeka, said he voted for Brownback partly out of necessity. Democrats are "borderline socialists who want to take my money and give it to people who don't want to work," he said in the parking lot of That Other Place, a discount store, before smiling and brandishing the new trailer hitch he had just bought for $6.55.
Less Government
His tepid feelings toward Brownback notwithstanding, Ferrier said he trusted that the governor could make the spending cuts needed to balance the budget by trimming superfluous administrative expenses and perks.
"We need less government and more efficiency," he said.
Brownback's vote total was short of the 63 percent he received in 2010. Forty-six percent looked to Paul Davis, his Democratic challenger, to reverse course.
Claire Martin, a 21-year-old student at the University of Kansas, was one. More tax cuts will further imperil the state's legacy as a stable place to raise a family and get a good public-school education, she said.
"You shouldn't be experimenting with the lives of a whole state of people," she said.
Before it's here, it's on the Bloomberg Terminal.
LEARN MORE