Boxed In, But Moving On
The president says he's ready to get to work following a disastrous election, but he shows no sign of capitulation to the Republican wave.
by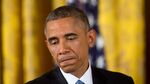 "Republicans had a great night."
That was it. No mea culpa. No other acknowledgement of the beating his party had just taken at the polls. No word or phrase akin to "thumpin''' or "shellacking" to be cemented in history as a description of the Democrats' historic losses in the 2014 midterms. And that was just fine by President Barack Obama. He is ready to move on.
Aides say Obama isn't prone to showing emotion in public or behind closed doors, and he wasn't going to give the press any on a day like Wednesday. Instead, he tried to present an outline for his final 24 months in office: There will be a push for bipartisanship on smaller bore items to try and gain some momentum with the new power dynamic in the U.S. Senate. Executive actions will be rolled out when lawmakers won't move his proposals legislatively. His use of the veto pen is almost a certainty.
But capitulation? Nope.
That agenda presents a complicated balancing act for Obama. By all accounts, his own most forcefully, he is ready to pull the trigger soon on unilateral immigration reform that will enrage Republicans. It risks poisoning a well that doesn't have much to drink from to begin with.
At the same time, he made clear he wants to negotiate with new Senate Majority Leader Mitch McConnell when the 114th Congress gavels into session in January. He and his team are counting on a meeting with bipartisan, bicameral congressional leadership on Friday to set the tone. McConnell laid down a marker on Wednesday, saying there would be "no government shutdowns and no default on the national debt."  
While Obama described areas of possible agreement (trade and infrastructure being chief among them), he bristled at the idea of laying out a specific compromise.  Obama's dual-track strategy of pursuing agreements with Republicans while looking for opportunities for unilateral decisions is in large part the same tack he's used since Republicans took control of the House in 2010.  But it hasn't squared with progress. Nor has his reluctance to shake up his White House staff, to make major changes to the way his administration operates, or to implement significant shifts on the policy side of things.
Obama now finds himself in something of a box, dependent on the will of others outside of his control as he tries to nail down his legacy in his final two years in office. White House aides are privately skeptical of Republican statements touting the need to find common ground. Republicans are equally suspicious of the White House. Democrats on Capitol Hill have made no secret of their disdain for the man who came to office with a nearly 70 percent approval rating. On the latter two fronts, Wednesday's news conference did little to assuage concerns.
Yet there was a sense of wistful yearning for the promise that he first brought to his office, and an understated reference to the speech that launched him to political superstardom, when he told reporters: "I continue to believe we are simply more than just a collection of red and blue states. We are the United States." 
Behind the scenes he's been giving the equivalent of pep talks to staff–trying to rally his team with constant reminders that the work they'll do while in the White House will be the most consequential of their careers. It was a message he tried to explain today.
"Here's what I tell my team. I told them this last week and I told them this this morning. We have this incredible privilege of being in charge of the most important organization on earth–the U.S. government and our military and everything that we do for good around the world. And there's a lot of work to be done to make government work better, to make Americans safer, to make opportunity available to more people, for us to be able to have a positive influence in every corner of the globe."
Obama wants to finish strong, pledging he'll continue to work to improve the nation until his last moments in office. But as far as clear shifts or new directions for his White House, there were none.
Where does that leave Obama, who now has an approval rating hovering in the low 40s and a White House staff that has been stretched by repeated crises since the opening months of his second term? It's an open question. If his party coming up on the wrong end of a wave election isn't enough to bring a major strategic shift, it's hard to believe anything will.
Still, as he pointed out, even as a lame duck he remains the most powerful man in the world. He already has transformative legislative victories under his belt. Policy–from health care, to banking, to energy, to climate–has shifted demonstrably under his watch.
Obama acknowledged repeatedly during his news conference that there is more to be done and, even after Tuesday's stinging defeat, enough time to do it. But a pathway to getting something–anything–done isn't clear right now. 
Before it's here, it's on the Bloomberg Terminal.
LEARN MORE