Mark Warner Barely Holding on to Senate Seat in Virginia
Close results in the Virginia Senate race could dampen Warner's future presidential prospects and boost Gillespie's profile should he decide to run for governor or again for the Senate.
by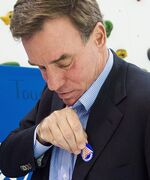 Democratic incumbent Mark Warner declared victory over Republican Ed Gillespie in Virginia Senate race in the biggest nail-biter of the 2014 midterms, but with just 12,150 votes separating them and three precincts still uncounted Gillespie has yet to concede and had not ruled out a recount.
Warner led Gillespie, 49.1 percent to 48.5 percent, with 99 percent of precincts reporting, according to an Associated Press tally. 
While Republicans already gained enough seats to take over control of the U.S. Senate in January, the unexpected closeness of the Virginia race underscores the beating Democrats took at the polls Tuesday night and how damaging President Barack Obama's unpopularity was to incumbents in swing states. 
Gillespie, a former Republican National Committee chairman, ran an aggressive campaign to tie Warner to Obama, saying Warner had voted for Obama's agenda 97 percent of the time. That undercut Warner's reputation in the state as an independent and a moderate. "He really was hurt by the ads saying he voted with Obama," said Larry Sabato, director of the University of Virginia Center for Politics.
With early returns favoring Gillespie, it looked for a stretch on Tuesday night as if the race could replicate the surprise factor of the Virginia House primary earlier this year that cost then-House Majority Leader Eric Cantor his seat in Congress. "It's very clear that Virginia is and remains a battleground," said Republican strategist Doug Heye. Gillespie's strong challenge "gives him a great starting position" if he chooses to run for governor in 2017 or Senate in 2018, Heye said. Still, Virginia has been trending blue because of the growth in the Northern Virginia suburbs, which delivered the state to Obama in 2008 and 2012 and to Warner on Tuesday.
In Virginia, the losing candidate may seek a recount if the margin is not more than 1 percent of the total votes cast for the two candidates. With roughly 2 million votes cast, that would mean a margin of about 20,000 votes.
Warner held the money advantage spending $12.7 million on his race through Oct. 15, according to the Center for Responsive Politics. Gillespie spent less than half—$6 million—in that time, without support from outside groups funding television ads. His campaign aired only 8,500 spots from June 10 through today, according to Kantar Media's CMAG data. Warner aired roughly 13,000 spots in the same time period and was backed by an outside group that funded an additional 3,400 spots.
—Annie Linskey contributed to this report.
Before it's here, it's on the Bloomberg Terminal.
LEARN MORE