Walker Wins Wisconsin, Keeps Presidential Ambition Afloat
Tim Jones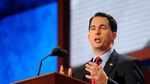 Wisconsin Republican Governor Scott Walker won re-election, defeating Democratic businesswoman Mary Burke and preserving his status as a potential 2016 presidential candidate.
Walker won 52.9 percent to 46 percent in yesterday's vote, according to preliminary returns from the Associated Press with 86.5 percent of precincts reporting. The declaration of the governor's victory provoked an eruption last night at Walker's campaign headquarters in suburban Milwaukee, where supporters chanted "four more years."
Walker, 47, provoked a firestorm in 2011 when he used Republican legislative majorities to curb collective bargaining for most public employees. Weeks of protests were followed by 16 months of recall campaigns against Walker and his legislative supporters. In June 2012 he became the first U.S. governor to survive an ouster vote.
The victory over unions earned Walker the devotion of conservatives and the enmity of Democrats, as well as speculation that he would seek the Republican presidential nomination in 2016.
"First off, I want to thank God," Walker told a cheering crowd of more than 2,000 at the exposition center at the Wisconsin State Fair grounds.
Standing in front of a line of 10 American and Wisconsin flags, he delivered remarks that were aimed more at Washington politicians than the state he leads.
"They tend to measure success in government by how many people are dependent on the government," Walker said. "We measure success by how many people are no longer dependent on government."
Defiant Concession
Burke, 55, is a former executive at Trek Bicycle Corp., founded by her father. This was her first run for public office. At her campaign headquarters in Madison, Burke gave an occasionally defiant concession speech, saying the battle for a higher minimum wage, abortion rights and collective bargaining is not over, even though her campaign is.
"It means a government that is working for the people, not deep-pocketed donors and big money special interests," Burke told supporters.
Walker, the former Milwaukee County executive, was among a group of Republican governors elected in 2010 that included Florida's Rick Scott, Ohio's John Kasich and Michigan's Rick Snyder. His confrontations over collective bargaining, abortion clinics, voting regulations and taxes endeared him to conservatives who mentioned him among the top tier of 2016 Republican presidential hopefuls.
Split State
The dispute over collective bargaining polarized the state, with the recall contests of 2011 and 2012 consuming more than $137 million in campaign spending.
It was Wisconsin's economic performance, though, that was the campaign's dominant issue. Walker had pledged in 2010 to deliver 250,000 private sector jobs by the end of this year.
Wisconsin ranks 30th among U.S. states in job growth during Walker's term, with a gain of 4.62 percent, adding 126,600 non-farm payroll jobs from December 2010 through September, according to Bureau of Labor Statistics data. North Dakota had the highest percentage increase during that time at 22.5 percent, while California added the most total jobs at 1.24 million, data show.
At the same time, Wisconsin's unemployment rate dropped to 5.5 percent in September, from 7.7 percent when Walker took office in January 2011.
Courtroom Morass
Legal controversies dogged Walker during his first term. A group of county prosecutors said the governor was involved in an effort to bypass election laws while fighting the 2012 recall, according to court documents. No one has been charged in that investigation.
Six former associates or aides have been convicted of charges ranging from performing political work on government time to stealing public funds during Walker's tenure as Milwaukee County executive.
Wisconsin, with a history of progressivism rooted in the career of Robert M. La Follette Sr., a governor and U.S. senator in the early 20th century, showed itself to be volatile in the past four years. In 2010, voters elected Walker and sent Republican Ron Johnson to the Senate, ousting three-term Democrat Russell Feingold.
Two years later, after rejecting Walker's ouster, 53 percent to 46 percent, voters gave Democratic President Barack Obama a similar-sized victory and chose Democratic U.S. Representative Tammy Baldwin over former Republican Governor Tommy Thompson for the U.S. Senate.
Before it's here, it's on the Bloomberg Terminal.
LEARN MORE