Three Pieces of Good News for Democrats to Cling To Post-Election
Here's some post-election good news even Democrats can appreciate.
by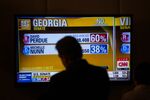 Calling last night a rough night for Democrats is about as much of an understatement as saying "Republicans did alright."
The GOP gained seats in the House of Representatives, turned blue state legislatures red, performed surprisingly well in governors races and, of course, took control of the U.S. Senate for the first time in eight years.
But that doesn't mean everyone who has ever answered the siren cry of a Democratic Congressional Campaign Committee fundraising email should despair. Here are three bright spots for the left in what was otherwise a very bleak night.
Marijuana, background checks and minimum wage passed
Voters didn't re-elect Senator Mark "Uterus" Udall in Colorado, but they also rejected a proposed personhood amendment. Amendment 67 would have treated "unborn human beings" as children under the criminal code—in other words, abortion would be illegal in all cases. The amendment was shot down by nearly 67 percent of voters. North Dakota also rejected its personhood amendment. (Tennessee, however, passed its abortion bill.)
And that's not all: in Washington voters approved a ballot measure that will expand background checks. In Alaska, Oregon and Washington D.C. voters said yes to recreational marijuana, a key part of realizing criminal justice reform. And voters in Arkansas, Nebraska and South Dakota voted to raise the minimum wage.
Exit polls show people care about climate change
Most of the exit poll data is not good for Democrats. Voters think the government is heading in the wrong direction and that the government does too much.
But the exit polls also show that 44 percent of Americans have a positive view of Democrats, compared to 40 percent for the GOP. And, more importantly, some issues pushed by Democrats are popular with voters. A majority of Americans think that there should be a way for undocumented immigrants to stay in in America and that abortion should be legal in most cases. Climate change is a serious problem according to two-thirds of voters, and a majority of voters said the country's economic policies favor the wealthy.  
Women made history last night
For the first time ever, there will be 100 women in Congress. True, Senator Kay Hagan and Democratic hopefuls like Alison Lundergan Grimes and Michelle Nunn won't be among them, but the group does include Shelley Moore Capito, a Republican, but also the first women elected to the Senate from West Virginia in the state's history. More history: Joni Ernst is the first woman to represent Iowa in the Senate. That's something for fans of gender parity! And there are five women of color expected to join the House next year. Four of those women are Democrats, and Mia Love is set to be the first black Republican congresswoman.
Before it's here, it's on the Bloomberg Terminal.
LEARN MORE