The Democrats' Final Senate Fight
Senator Mary Landrieu comes out swinging at the start of her runoff election.
by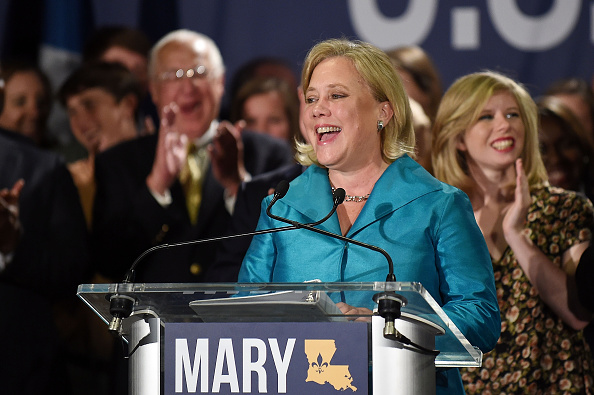 The battle that will settle the last undecided U.S. Senate seat in December began with a bizarre twist Wednesday, when Louisiana Democratic Senator Mary Landrieu accused her Republican challenger of voting with President Barack Obama 97 percent of the time.
It was a twist on an attack that Republicans had used against her and other Democrats as they tied the incumbents to an unpopular president and road a wave of voter angst to take control of the U.S. Senate. Three sitting Democratic senators were ousted in Tuesday's midterm, the most in 34 years, and two re-election races—in Virginia and Alaska—remain unsettled as final votes are tallied. Landrieu was forced into a Dec. 6 runoff race with Representative Bill Cassidy of Baton Rouge after neither received more than 50 percent of the vote; a third party candidate received 14 percent support on Tuesday.
"Of the bills that the president signed into law, he voted with the president 97 percent of the time," Landrieu said Wednesday, a careful phrasing and accounting that left out dozens of anti-Obama protest votes and others taken in the U.S. House. Complaining about attack ads that "distorted" her own voting record, she sought to get voters to "look deeper and see who has delivered for the state." Cassidy's campaign called the statistic "a spectacular move of desperation" in an emailed statement.
The exchange was an opening salvo in what is expected to be a brutal final sprint in the midterm season. Freedom Partners Action Fund, a super-PAC backed by energy billionaires Charles and David Koch, is already up with a new ad blasting Landrieu for supporting fellow senators who've voted against the oil and gas industry. "Mary Landrieu says she supports Louisiana energy, but she's contributed hundreds of thousands of dollars to elected anti-energy senators," a narrator asserts. The ad is part of a $1.5 million ad buy the super-PAC is dropping in the state. The Republican National Committee plans to send 300 staffers to work for Cassidy during the runoff, Chairman Reince Priebus told reporters Tuesday. 
"Just a few weeks ago, Senator Landrieu gave President Obama a passing grade of 7 out of 10," John Cummins, a spokesman for Cassidy, a practicing gastroenterologist, said in the statement. "Now she is falsely attacking Dr. Cassidy, by saying he supports the President she supports almost universally."
Cassidy has served in Congress since 2009 and spent most of Election Day working regular hours as a physician and professor of medicine at Louisiana State University in Baton Rouge, Cummins said Tuesday. Landrieu is challenging Cassidy to six televised debates, even though he only agreed to two during the general election campaign.
"Where is Bill Cassidy?" Landrieu said. "He's got a television ad running, but no public appearances today. And he has not answered my challenge yet about if he's going to debate or not." 
The Republican nominee will be hesitant to change a campaign strategy framed around anti-Obama sentiment that worked for him during the general election, said Michael Sherman, a political analyst at Tulane University. "He will certainly continue to ride the Republican wave, but I don't think he can avoid, now that it's down to a one-on-one race, the sort of scrutiny that he was able to avoid in the general election," Sherman said. "When you have an incumbent Democratic senator challenging you to six debates, I don't see how he can reject her calls or not participate in at least some of them without looking weak."
Landrieu has won election to the Senate in two previous runoffs, in 1996 and 2002, leaving her confident that she can mobilize her voters again. But the political landscape has dramatically shifted in the state since 2008, when she was elected outright amid high voter turnout for then-candidate Barack Obama. Now, Landrieu is the last Democrat holding statewide office in Louisiana, with Republicans sweeping into power in the state and across the country.
"We are the last state in the South where there is this vestige that voted solidly Democratic over the last half century and she is the last vestige in the last state of the solid South," Sherman said. "This is truly a big uphill battle for Senator Landrieu, but many of her races have been and if she is able to get this to a discussion of what she's brought home for Louisiana she has a chance of putting together a coalition" of voters.
Landrieu remains an institution in Louisana, having served in the Senate for 18 years. Her brother, Mitch Landrieu, is mayor of New Orleans, and her father, Moon Landrieu previously served as mayor of the city. Her cousin, Gary Landrieu, was on the ballot for a congressional seat on Tuesday. 
Before it's here, it's on the Bloomberg Terminal.
LEARN MORE