Seeds for GOP Senate Takeover Planted Last Year
Obama's unpopularity and an already challenging map for Democrats added to the Republicans' advantages.
by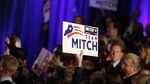 Before the clock struck midnight Tuesday, Republicans knew their work over the past 24 months had paid off: They had control of the Senate and turned the U.S. Capitol bright red.
The party leaders learned from bitter defeats in 2010 and 2012, and their primary season produced candidates who could–and did–win general elections. They capitalized on President Barack Obama's unpopularity while expanding the electoral map to states that went blue in 2012, such as Iowa, Colorado, and New Hampshire. Better coordination among Republican-leaning special interests and super political action committees, plus a sizable investment in data analysis and voter targeting, also factored into an evening that ended with historic midterm losses for Democrats and Obama.
The first glimmer that the night was breaking the Republicans' way came in Virginia, where the Senate results were surprisingly uncertain. Mark Warner's re-election was supposed to be a slam dunk, but for hours Republican Ed Gillespie was on top.
Democrats eked out that victory, but better news was soon on the horizon for Republicans in Arkansas, Colorado and Georgia. By 11:30 p.m., the celebration was on in Washington. That's when Fox News called Iowa's Senate race for Joni Ernst, giving the GOP their sixth Senate pickup and handing the party control of the chamber for the first time in nearly a decade. The band at Union Station blasted "American Girl," in honor of the first Iowa woman elected to Congress.
From the start of this election cycle, Republicans enjoyed favorable conditions. Democrats were defending more seats, many in states Obama lost in 2012. Still, it all could have easily gone off track this spring amid a civil war between the party's Tea Party and establishment wings.
"Unlike the last two election cycles, where the GOP effectively gave away five Senate seats because of bad candidates like Todd Akin and Christine O'Donnell, we worked to make sure the strongest candidates in each state were on the ballot in November," said Brian Walsh, a strategist and former spokesman for the National Republican Senatorial Committee. "That required investing money in primaries, but it was money well spent, because across the board we had a strong class of candidates."
The yearlong fight over the party's direction stretched over two dozen Senate and House primaries involving more than 50 candidates. The effort, led by the U.S. Chamber of Commerce, carried a high cost: The two factions and their favored candidates spent more than $135 million nationwide in the intra-party fight, according to an analysis by Bloomberg Politics. The result: Not a single Tea Party challenger beat a Republican incumbent in Senate primaries this year. Rob Collins, the executive director of the national GOP Senate committee, last week called the nominees that emerged the party's "best candidate class in 30 years."
In preparing for the general election, the Republican National Committee took the lead in revamping get-out-the-vote operations, an area where Democrats were clearly superior in 2012. The effort was named Victory 365 and emphasized year-round organizing, not just during the party's traditional push in the final 72 hours.
One key was to identify people who supported Republicans on the issues but did not typically vote without extra encouragement and contact. The project targeted more than 2.4 million of these low-propensity voters in states with competitive Senate races, according to the RNC. Some of the improvements became visible even before Election Day: Republicans stayed close to even with Democrats in early voting in Iowa, and in Colorado they beat Democrats by more than 100,000 ballots returned.
The Republicans were countering an effort Democrats started in early 2013, when Senate Majority Leader Harry Reid, Senator Michael Bennet of Colorado and Guy Cecil, the head of the Democratic Senatorial Campaign Committee, launched the "Bannock Street project," a $60 million investment in field operations, primarily based in 10 states. The goal was to identify Democrats who voted in the 2008 and 2012 presidential contests but skipped the 2010 midterms–and find ways to make them vote.
While Democrats kept their distance from Obama, they were happy to spend the money he raised at closed-door dinners in Manhattan and Martha's Vineyard. With the president's help, the Democratic Senatorial Campaign Committee raised $125.5 million through Oct. 15; the Republican counterpart brought in $96.7 million.
Republicans countered that financial edge with the help of outside groups that worked together. American Crossroads, Ending Spending, and the U.S. Chamber of Commerce stayed in close contact throughout the campaign, swapping intelligence on what political commercials to put up on air and when to buy more air time. Campaigns are banned from coordinating with outside groups, but nothing prevents super-PACs from sharing data, tactics and planning. 
"We all shared the same goal—firing Harry Reid—and we acted accordingly," said Brian Baker, the executive director of Ending Spending Action Fund, which pumped more than $20 million into supporting GOP candidates.
Baker's group, founded by Joe Ricketts of TD Ameritrade, took the lead in buying television spots supporting Republican David Perdue in Georgia, according to Kantar Media's CMAG data. Karl Rove's Crossroads bought the most spots in Colorado, the data shows.
All told, the midterms cost roughly $3.7 billion, with about $1.75 billion supporting Republican candidates and $1.6 billion for Democrats, according to the Center for Responsive Politics. 
The bulk of that Republican spending promoted the theme that helped them win: Obama's personal unpopularity and what GOP candidates argued was the administration's mismanagement of national crises and programs. Forty-nine percent of TV ads aired in the past month by Republican candidates, committees and allied groups featured an anti-Obama message, according to data through Oct. 27 compiled by Kantar Media's CMAG, a tracking firm.
At a lunch with reporters last week in Washington, Collins of the NRSC was asked to name his favorite campaign surrogate for Republicans. "Obama," he said.
Margaret Talev and David Weigel contributed to this report. 
Before it's here, it's on the Bloomberg Terminal.
LEARN MORE