Pot in the Air: Marijuana Legalized in Oregon, Alaska and DC
Two more states and the District of Colombia legalized recreational marijuana use on Tuesday.
by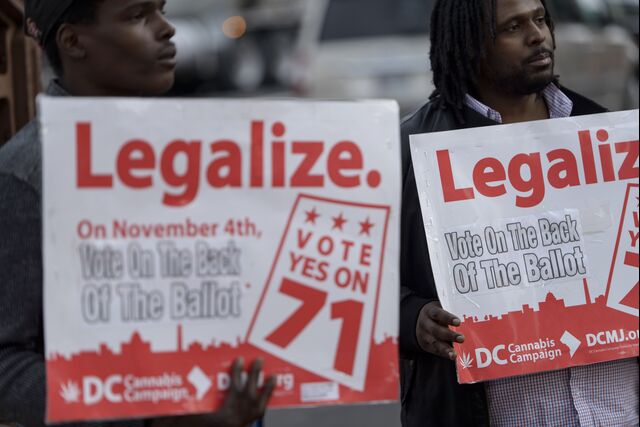 When it came to the fast-expanding rights of marijuana smokers, Election Night was not a buzz kill. Voters in Alaska, Oregon and Washington, D.C. passed measures legalizing the drug for recreational use Tuesday, joining Colorado and Washington, which legalized the drug in 2012. 
Alaska's Measure 2 allows residents over the age of 21 to posses up to one ounce of marijuana and to grow six plants for personal use. Devices used to smoke marijuana, such as bongs and pipes, can now also legally be sold in the state. 
In Oregon, Measure 91 passed by a margin well over one million votes. The initiative allocates a taxes on marijuana sales to public schools, mental health services, and police forces in the state. 
"We have ended a painful, discriminatory, harmful policy that has terrible consequences for our state," legalization advocate Anthony Johnson said at a victory celebration Tuesday night, the Oregonian reported. "We replaced it with a policy that is smarter, more humane. ... It's a policy whose time has come."
Washington, D.C.'s Initiative 71, which passed by a large margin, allows residents to posses up to two ounces of marijuana, to grow six plants, and to be able to transfer, but not sell, up to one ounce of the drug to another person. As the district is not a state, Congress could still veto the initiative. 
The only setback on Tuesday for marijuana activists came in Florida, where a ballot initiative that would have legalized medical marijuana came up just short of the 60 percent threshold required to amend the state constitution. 
Before it's here, it's on the Bloomberg Terminal.
LEARN MORE