Perdue Apparent Winner of Georgia Senate Race
The Georgia Senate race also serves as an early test for voter registration and turnout efforts as Georgia's changing demographics make it a target state for Democrats in presidential contests as early as in 2016.
by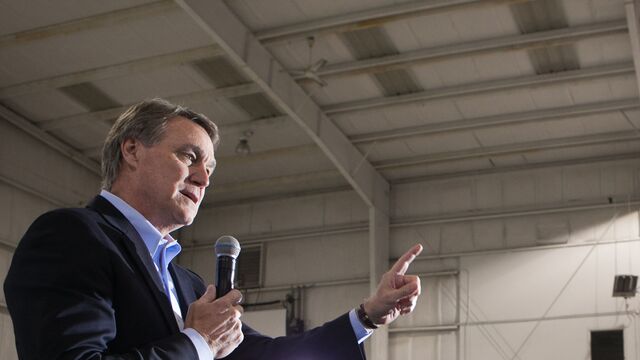 Republican David Perdue was the apparent winner of the Georgia Senate race, defeating Democrat Michelle Nunn and keeping the open seat in Republican hands as his party tries to take control of the Senate. The result was a blow to Democrats and minority voter advocates who engaged in a massive effort to sign up and turn out previously untapped minority voters in the state and thought they were poised to stretch the race to a Jan. 6 runoff.
Nunn, in a concession speech, told supporters, "We put Georgia in play" and "we built a foundation that needs to be cultivated."
The race pitted Perdue, 64, the former chief executive officer of Dollar General Corp. and a cousin of former Georgia Governor Sonny Perdue, against Nunn, 47, on leave as CEO of the Points of Light foundation and the daughter of former Georgia Senator Sam Nunn. Major themes of the race included job outsourcing, President Obama's record, and registration and turnout efforts as Georgia's growing minority population is turning the state more competitive for Democrats. The contest drew top surrogates, including former President Bill Clinton and First Lady Michelle Obama for Nunn and former President George H.W. Bush endorsing Perdue.
A push by state House Democratic Leader Stacey Abrams and her New Georgia Project registering 120,000 new voters with a focus on minorities and young voters "has put the state in play years before it would have been" for Democrats, former NAACP President Ben Jealous said in a telephone interview. Blacks now comprise a record 31 percent of the state's registered voter population, Abrams said in a telephone interview. Georgia's early-voting statistics, an indicator of what was possible, are "unpredecented" this year with 33% of the pre-election day votes cast by blacks, eclipsing all past ratios including the 2012 presidential election, Abrams said. That did not translate to victory for Nunn because Perdue enjoyed such high turnout from his own supporters. Regardless of the outcome, Abrams said, "There's a victory simply in the fact we forced the Republican party to fight to hold one of their seats."
Perdue campaigned on his business background as he tried to appeal to voters dissatisfied with jobs and the economy under Obama, and portrayed Nunn as a rubber-stamp for the president.  "The issue is trust," the narrator said in one of Perdue's closing ads, in which Nunn and Obama are pictured next to one another. "Do you trust President Obama and the Washington politicians?"
Nunn used Perdue's business background against him, focusing on his record of moving of jobs overseas. In a July 2005 deposition, given to Politico about a month before the election, Perdue said he "spent most of my career" outsourcing. She also ran on Congress' unpopularity, saying Perdue would represent a continuation of the status quo. A closing ad by Nunn showed footage of Perdue's Republican primary rival, Jack Kingston, talking about his former rival's job cuts and outsourcing, asking, "Is that the kind of job creation we need?"
Outside groups spent $27.2 million to influence the outcome of the race through mid October, according to the Center for Responsive Politics.
The campaign also served as an early test for Democrats' voter registration and turnout efforts, which could become a model for the 2016 presidential. While Obama lost Georgia in 2008 and 2012, a growing black middle class, Hispanic residents and influx of out-of-state voters are changing the political dynamic.
Abrams launched the New Georgia Project with a goal of registering as many as possible of an estimated 800,000 eligible but unregistered blacks, Latinos and Asian Americans over the next several years. The percentage of white registered voters in the state dropped to 58 percent as of October, down from nearly 63 percent in 2008, according to an Associated Press analysis of data from the Georgia Secretary of State's office.

A judge last week dismissed a lawsuit alleging elections officials had failed to process more than 40,000 applications, and on Tuesday there were accusations of disenfranchisement after reports of delays at the polls and the crashing of the Secretary of State's website where voters could find their polling location.
Duane Stanford contributed to this report.
Before it's here, it's on the Bloomberg Terminal.
LEARN MORE