Pennsylvania's Corbett Falls to Wolf
Romy Varghese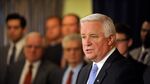 Republican Tom Corbett became the first Pennsylvania governor to lose re-election since the state's constitution was changed in 1968 to allow incumbents to seek second terms.
Corbett, 65, a former attorney general, lost to Democrat Tom Wolf, chairman of a family-owned business that supplies kitchen cabinets, according to projections by CNN, CBS and NBC. Wolf was Pennsylvania's Revenue Secretary, an appointed position, under Democratic Governor Ed Rendell from 2007-2008.
Corbett cut education funding and failed to get the Republican-led legislature to pass initiatives such as selling state liquor operations and overhauling the pension system. The governor trailed Wolf by 13 percentage points in an Oct. 29 Franklin & Marshall College Poll of likely voters, with 34 percent saying he deserved a second term.
Corbett also saw support erode after Attorney General Kathleen Kane, elected in 2012, raised questions on how the office under his tenure handled the investigation of Jerry Sandusky, the Pennsylvania State University assistant football coach now in prison for molesting children. Kane's review released in June said delays lengthened the case before Sandusky was charged in November 2011.
Wolf, 65, said he would boost aid to schools, institute a severance tax on the natural-gas industry and lower levies on the income of poorer residents while increasing the rates for others.
His campaign has received money from former New York Mayor Michael Bloomberg, founder and majority owner of Bloomberg News parent Bloomberg LP.
The state's constitution, in effect since 1968, permits two consecutive four-year terms for governors. Corbett is the first to lose a re-election bid since then.
Before it's here, it's on the Bloomberg Terminal.
LEARN MORE