Paging Scott Brown: These Senate Seats Will Be Open in 2016
Everyone has a joke about where Scott Brown will run next.
by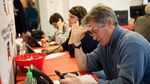 Democratic Senator Jeanne Shaheen is the apparent winner in New Hampshire's Senate race, ending the carpetbagger dreams of her Republican opponent, former Massachusetts Senator Scott Brown.
As Democratic Senator Amy Klobuchar put it on MSNBC, "Each state gets to have two Senators but Senators do not get two states."
So what's next for Brown? MSNBC's Alex Wagner asked Brown on Tuesday if he would go back to Massachusetts if he lost. "That's a silly question," he said before walking off.
Still, the most obvious joke among progressives is "where will Brown run next?"
The difference between this cycle and 2016, is that Democrats are defending seats in blue states. But, on the off chance that Brown does want to run for Senate in a third state (or try again in New Hampshire or Massachusetts), we've listed the Democrats up for re-election in 2016.
Colorado
Colorado's junior Senator Michael Bennet was elected in 2009. Republican Representative Cory Gardner just unseated Democratic Senator Mark Udall, and, like New Hampshire, Colorado has great skiing. For some recreational pot might be a plus, but Brown is very anti-marijuana.
Connecticut
Senator Richard Blumenthal won Democrat Chris Dodd's seat on 2010. The last Republican senator from the state was Lowell P. Weicker, Jr., who left office in 1989. At the same time, Connecticut is basically Massachusetts, right?
California
Brown's constant warnings about the need to secure our border would be much more relevant in California than they do in New England. Still, Brown should not run in California, especially not against Senator Barbara Boxer.
Vermont
Senator Patrick Leahy has been in office since 1975, and will be 76 in 2016. Wonkette, a satirical site, already joked that Brown bought some land there. "Ho ho ho, we made a joke in our headline! Scott Brown has not actually bought a house in Vermont. OR HAS HE??? No, he hasn't. THAT WE KNOW OF!!!" Vermont's greatest appeal is that it borders the other two states Brown has run in.
Maryland
Senator Barbara Mikulski has been in office since 1987, the last year there was a Republican Senator from the state. The benefit of living in Maryland is the short commute to Washington D.C.
Washington
Brown would likely find it hard to make a go of it in one of the first states to legalize recreational use. He'd be running against Senator Patty Murray.
Nevada
I can't think of any reason why someone would want to live in Nevada. But the question here is: Would Republicans fund Brown if he had a chance of unseating (current) Senate Majority Leader Harry Reid? Something to consider.
New York
New York isn't technically New England, but it's close enough. But Senator Chuck Schumer is a fundraising machine and New York hasn't had a Republican Senator since 1999. Pass.
Oregon
Like Massachusetts, Oregon also has a famous city named Salem. Senator Ron Wyden has been in office since 1996, but Oregon has conservative pockets.
Maine
Several people have suggested (read: joked) that Brown run in Maine.
Unfortunately, Senators Angus King and Susan Collins aren't up for re-election in 2016.
Before it's here, it's on the Bloomberg Terminal.
LEARN MORE