McConnell Wins Kentucky
Addison Mitchell McConnell, Jr. will return to the U.S. Senate for his sixth consecutive term.
by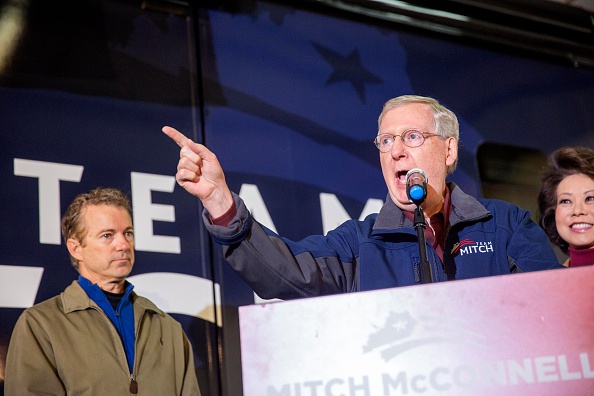 Bloomberg Politics is reporting that Republican Mitch McConnell is the apparent winner in Kentucky's U.S. Senate race, capturing his sixth six-year term after defeating Democrat Alison Lundergan Grimes.
McConnell, 72, is in line to become Senate majority leader if his party can pick up a net gain of six seats Tuesday. He has been the ranking Republican in his chamber since 2007. 
 Lundergan Grimes, 35, was supported by former President Bill Clinton and former U.S. Secretary of State Hillary Clinton, longtime friends of her father.  During the campaign, Grimes was criticized for repeatedly refusing to say whether she voted for President Barack Obama in the 2012 presidential election.
The race was a focus for both parties and McConnell took it seriously from the start, airing his first television ad in March, 2013. It was also among the nation's most expensive. McConnell raised more than $27 million and Lundergan Grimes collected more than $17 million, according to the Center for Responsive Politics. Outside groups, including the Kentucky Opportunity Council, which has ties to Republican strategist Karl Rove, added $40 million.
Before it's here, it's on the Bloomberg Terminal.
LEARN MORE