McConnell Vows Gridlock 'Can Be Ended'
Kathleen Hunter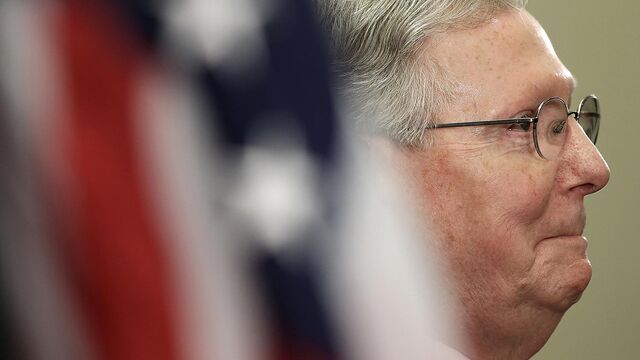 Republican Mitch McConnell, in line to become U.S. Senate majority leader, said he'll try to end Washington gridlock and that he and President Barack Obama spoke about working on a tax-law revision and trade agreements.
"There will be no government shutdowns and no default on the national debt," McConnell, 72, told reporters a day after his party clinched Senate control. "Gridlock in Washington can be ended." Republicans also picked up governorships and seats in the House of Representatives in yesterday's election.
McConnell said he spoke with Obama by phone just before the senator's news conference in Louisville, Kentucky.
"I said send us trade agreements. We're anxious to take a look at them," the senator said. "We'll see whether we can work with the president. We hope so."
Obama, speaking at a White House news conference shortly afterward, said he wanted to "find ways to work together" on issues such as tax changes to finance work on infrastructure.
"There's no doubt that Republicans had a good night," the president said. "What we're going to make sure that we do is to reach out to Mitch McConnell and John Boehner, who are now running both chambers of Congress, and find out what their agenda is."
Republicans gained at least seven Senate seats in yesterday's election, more than enough to take control of the chamber in January. That positions McConnell -- who has led the Senate Republicans since 2007 -- to set the legislative agenda for the final two years of Obama's presidency.
Obamacare Cuts
On areas where Republicans and Obama disagree, McConnell said the Senate will use its power over federal spending to reduce government regulation and that it will use "a variety of different ways" to try to cut back parts of Obama's health-care law.
The Senate Banking Committee also will consider revisions in the Dodd-Frank law enacted after the 2008 financial crisis, which he termed "Obamacare for banks."
He also warned Obama not to act unilaterally to change immigration policies. "It's like waving a red flag in front of a bull," he said.
"In our system, the president is the most important player," the senator said, adding, "I'm hoping that he will decide to move to the middle."
Republicans picked up seats in West Virginia, Montana, Arkansas, South Dakota, Colorado, North Carolina and Iowa. Louisiana will go to a run-off, as neither candidate won more than 50 percent of the vote.
Georgia, Kansas
They also held on to seats in Georgia, Kansas and Kentucky, where McConnell handily defeated Democrat Alison Lundergan Grimes, despite her high-profile national support.
Maine Senator Angus King, an independent, said at a press conference today that he will continue to caucus with Democrats after Republicans take control of the chamber in January. King and West Virginia Democrat Joe Manchin have been seen as potential party switchers if Republicans gained the majority.
Manchin spokesman Jonathan Kott said last night that no overtures had been made to Manchin and that he wouldn't switch parties.
McConnell's tenure as majority leader could be short-lived. In 2016, Republicans will be defending at least 22 seats compared with as few as nine for Democrats.
He could also face some divides within his caucus. Senator Ted Cruz of Texas, a possible 2016 Republican presidential contender, in an interview with MSNBC declined again to say whether he would back McConnell for majority leader.
Policy Repudiation
In a press release today, Cruz cast the string of Republican victories yesterday as a repudiation of Obama's economic, foreign policy and immigration stances.
Asked about Cruz's refusal to endorse him, McConnell said today, "A week from tomorrow, I'll be elected majority leader."
The 2016 presidential aspirations of Tea-Party backed members of his caucus -- fellow Kentuckian Rand Paul, Cruz and Marco Rubio of Florida -- create some difficult crosscurrents for McConnell.
"He's got a handful of Republicans wanting to run for president," said Jim Manley, a former aide to Reid. "But the math is flipped in 2016 -- far more Republicans are up than Democrats."
Those electoral realities could complicate McConnell's pledge to bring back the days when amendments were routinely allowed on legislation, committees were more involved in crafting bills, and spending measures were considered on an individual basis.
"You'll see him try to return the Senate to the way it was when it worked pretty well," said former Arizona Senator Jon Kyl, who was the chamber's second-ranking Republican before retiring from Congress in 2013. "It restores rights to the minority. Both Democrats and Republicans are hungry for that."
Before it's here, it's on the Bloomberg Terminal.
LEARN MORE