Martha Coakley Loses Again in Massachusetts
The Massachusetts Attorney General has lost another high profile race.
Annie Linskey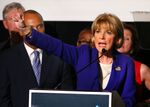 Massachusetts Democrat Martha Coakley has lost ... again. 
The Bay State's attorney general called Republican Charlie Baker and congratulated him on his gubernatorial victory, according to a news release sent at 8:34 a.m. from her campaign. 
Coakley is set to address her supporters at 11 a.m. from her campaign headquarters in Somerville, according to the release.
Election watchers in Massachusetts had started to dub her "Choakley" since she was was, until now, best known for losing a 2010 special election to replace Senator Edward Kennedy. (Coakley lost that race to Republican Scott Brown, who was defeated in 2012 by Democrat Elizabeth Warren. Brown also had a bad night Tuesday, failing to win a different Senate race in New Hampshire.)
The governor's race was always a struggle for Coakley: Party insiders passed her over at their June convention, instead giving a nod to state treasurer Steve Grossman, a setback that complicated her path to the nomination. She had difficulty raising money. Outside GOP groups spent more than the Democratic ones. 
Meanwhile, Baker had learned from his mistakes in 2010 when he lost the governor's race to Deval Patrick. This time Baker was more personable—when he announced his candidacy he served chocolate chip cookies. 
Baker stumbled a bit in the last week of the campaign: He teared up during a debate recalling the story of a struggling New Bedford fisherman. The moment seem poignant at first, but then no news outlet could find any trace of the man—calling the anecdote into question.
Coakley tried to capitalize on the error but was blocked by history: The death of beloved Boston Mayor Thomas Menino days before the election. Both gubernatorial campaigns canceled events—and Baker's fish tale was subsumed by news of Menino's funeral. 
Before it's here, it's on the Bloomberg Terminal.
LEARN MORE