Kentuckians Actually Bought McConnell's Answer on Obamacare and KYnect
An incoherent stance played just well enough with voters.
by and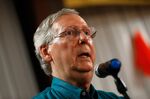 Before Alison Lundergan Grimes refused to reveal her 2008 and 2012 presidential vote, there was the KYnect gaffe. Senator Mitch McConnell swore in front of every working microphone that a GOP Senate would remove the ACA "root and branch." Yet in Kentucky, Democratic Governor Steve Beshear had spearheaded the creation of KYnect, a state health care exchange that had been working perfectly well. When he was asked if Obamacare repeal would undo that, too, McConnell shrugged that there was "nothing wrong with a website," and the exchange could go right ahead so long as Obamacare was destroyed.
Reporters were baffled. Voters, less so, as exit polls from the race reveal:

McConnell narrowly beat Grimes among voters who thought KYnect was working "somewhat well," even though his official position would probably dismantle it.
Before it's here, it's on the Bloomberg Terminal.
LEARN MORE