Keep the Bums In
How did the most scandalized incumbents of 2014 fare? Not too shabby.
by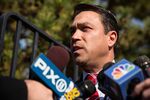 This was supposed to be the election in which people finally rose up against the people who represented them so poorly. Congress was historically unpopular. Faith in the president and federal government had collapsed. Voters tended to approve of the job their own member of Congress was doing, but in August, a Washington Post/ABC News poll found even that number sinking under the waves.
And yet, as usual, most incumbents held onto their seats. Not even the incumbents hit by scandals managed to lose their elections. Yes, some of the people who'd been indicted this ear decided to give up their seats, but those who stuck it out got returned, with one exception. (That's not counting Democratic Senators Jeanne Shaheen and Kay Hagan, who were hit with last-minute allegations of, respectively, overzealously worrying about the tax status of political groups and of receiving familial benefit from stimulus money.) A recap:
Assemblyman William Scarborough (D-N.Y.)
Scandal: Indicted one month before the election for allegedly filing around $40,000 in bogus expenses, and skimming nearly as much money from his own campaign account.
Margin of victory: 79 points; his only opposition came from people who left their ballots blank.
Representative Michael Grimm (R-N.Y.)
Scandal: Indicted in April, accused of hiding more than $1 million of taxable income by keeping two sets of books on the wages paid to workers at a health food restaurant.
Margin of victory: 13 points, with 100 percent of precincts counted.
Senator-elect Mike Rounds (R-S.D.)
Scandal: While governor, presided over the alleged corruption of the state's EB-5 visa program. Appointed the men who directed and privatized the program, one of whom profited handsomely, and one of whom killed himself as the investigation swirled.
Margin of victory: 24 points, with 65 percent of precincts counted.
Representative Scott DesJarlais (R-Tenn.)
Scandal: Unsealed divorce records revealed that DesJarlais, a doctor, had multiple affairs with patients, and that he encouraged an ex-wife to have not one but two abortions.
Margin of victory: 23 points, with 100 percent of precincts counted.
Representative Vance McAllister (R-La.)
Scandal: Caught on a security camera necking with his scheduler, which is not the accepted practice for married congressmen. Briefly announced retirement, then kept his name on the ballot for November and hit the trail.
Margin of victory: None. He ran a poor third and missed the runoff.
Governor John Kitzhaber (D-Ore.)
Scandal: Kitzhaber's finance, Cylvia Hayes, admitted to a defunct, secret, sham marriage to an immigrant who needed a green card. Later, she admitted to having purchased land for the purpose of illegally growing marijuana. Still later, The Oregonian revealed that a top Kitzhaber aide may have scored a no-bid contract for his wife's business.
Margin of victory: 3 points, with about half of mail-in votes counted and the margin expected to grow.
Before it's here, it's on the Bloomberg Terminal.
LEARN MORE