Andrew Cuomo Re-Elected New York Governor
Freeman Klopott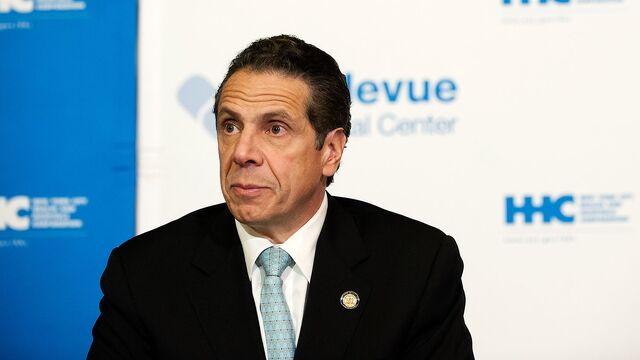 Andrew Cuomo, who overcame Albany's notorious dysfunction to pass four on-time budgets and legalize same-sex marriage, became the first New York Democrat re-elected governor since his father won a third term in 1990.
Cuomo led Republican Rob Astorino by 54 percent to 41 percent with 93 percent of the precincts reporting, according to preliminary results from the Associated Press. The governor was able to capitalize on his fundraising advantage, taking in about $45 million, compared with $5 million for Astorino, the Westchester County executive.
"We did what we said we would do and we delivered for the people of this state,'' Cuomo told hundreds of supporters last night at a reception in Manhattan. ''We broke decades of gridlock.''
Cuomo, 56, will enter his second term with a $4.2 billion state budget surplus won from legal settlements with Wall Street banks. He wants to spend $1.5 billion of that to bolster the economies of upstate cities and $500 million to encourage local governments to consolidate. Merging services will lower property taxes, which are among the highest in the nation, Cuomo says.
In his first term, Cuomo cut $10 billion in deficits and won wage and pension concessions from unions. The four consecutive on-time budgets were New York's first since 1977, leading to upgrades from all three major rating companies. Standard & Poor's now gives the Empire State its highest grade since 1972.
Teachout Challenge
Cuomo's victory margin was smaller than the 61 percent of the vote he received in 2010 against Republican Carl Paladino. Zephyr Teachout, a Fordham University law professor, capitalized on anger among the progressive wing of the Democratic Party to win more than a third of the vote in a primary challenge to Cuomo in September. Breaking tradition, she declined to endorse him.
Another challenge for Cuomo was a federal investigation into his administration over its meddling and shutting down of an anti-corruption panel he created, saying previously it would be operate independently.
After beating Teachout without ever mentioning her name, Cuomo poured money into advertisements against the 47-year-old Astorino. The commercials, many negative, helped keep Astorino from capitalizing on the probe into the Moreland Commission by Preet Bharara, the U.S. attorney in Manhattan.
An Oct. 22 poll by Siena College in Loudonville, New York, showed Cuomo leading Astorino by 21 percentage points with the support of 34 percent of Republican voters.
Cuomo, the son of former Governor Mario Cuomo, needed the Republicans as a counter to Howie Hawkins, the Green Party candidate, said Ryan Karben, a former Democratic state assemblyman from Rockland County who is now a political commentator.
''Cuomo very shrewdly calculated what he needed to make up on the right for what he was losing on the left," Karben said by phone before the polls closed.
Before it's here, it's on the Bloomberg Terminal.
LEARN MORE