After Election Success, Christie Breaks Bread With Billionaires
Max Abelson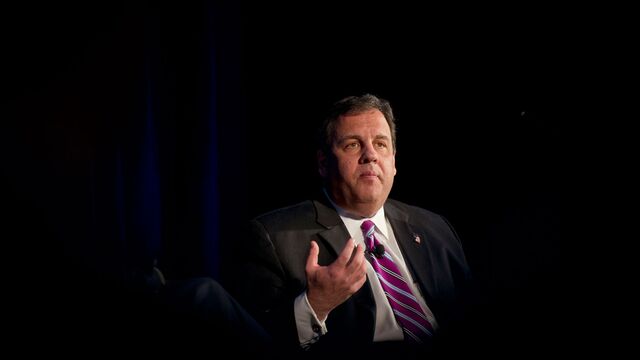 As Chris Christie's left hand held onto Henry Kissinger's right shoulder, eyes around the Four Seasons Grill Room in Manhattan darted discreetly.
The New Jersey governor stood up from his lunch yesterday with billionaires Steve Wynn and Richard LeFrak to greet the former secretary of state. Christie's meal at the restaurant, where a two-course $28 lunch offers wild-boar Bolognese and fig-stuffed quail, was relaxed compared with visiting 19 states in the five days leading up to elections on Nov. 4.
"It was a very benign conversation, it was happy," LeFrak, chairman of New York-based real estate firm LeFrak Organization, said afterward. "It was a completely social occasion, just exchanging pleasantries."
The midterm election, estimated to be the most expensive ever in the U.S., bolsters Christie's standing after he helped raise a record $102 million as chairman of the Republican Governors Association. He said on one of five national television appearances yesterday morning that he was working on two hours of sleep and wanted a nap.
At a table that included art dealer William Acquavella, they talked about auctions like the Sotheby's sale this week featuring a $101 million Alberto Giacometti sculpture of a woman on a chariot, LeFrak said. They also talked about Larry Hogan's surprise win in Maryland's race for governor, one of at least two governors' offices Republicans added to the 29 they already controlled, as the party captured the U.S. Senate.
Losing Team
After an election fueled by record donations from Wall Street, conversation turned to politics elsewhere in the restaurant, designed by Philip Johnson and Ludwig Mies van der Rohe. Eating the Bolognese at the bar, Bill Kenney, 68, said he wasn't thrilled about either party.
"The last-place team lost to the team that's second-to-last," said Kenney, who was an executive at trading firm Spear, Leeds & Kellogg, which was acquired by Goldman Sachs Group Inc. in 2000.
LeFrak has donated to Republicans including congressman-turned-banker Eric Cantor and Democrats including Hillary Clinton, Federal Election Commission records show. Christie wasn't up for election this time, and LeFrak said his table didn't discuss the governor's potential presidential run.
"A lot of us would think he would be a good candidate," he said. "But that was not the subject of the conversation."
Wynn, chairman of Las Vegas-based Wynn Resorts Ltd., said New Jersey's Atlantic City "is the enemy" when he presented plans last year in Philadelphia for a casino license as Pennsylvania builds a competing gaming industry.
Before guiding 91-year-old Kissinger to Christie, Julian Niccolini, a partner in the restaurant, said his guests have other concerns beside yesterday's elections.
"My customers, they don't care," he said. "Their pockets are getting so full they don't know where to put their money."
Before it's here, it's on the Bloomberg Terminal.
LEARN MORE