After 'Sit Down and Shut Up,' Governors' Races Are Redemption for Christie
The New Jersey Governor will receive a lot of credit for racking up GOP statehouse wins on Election Night.
by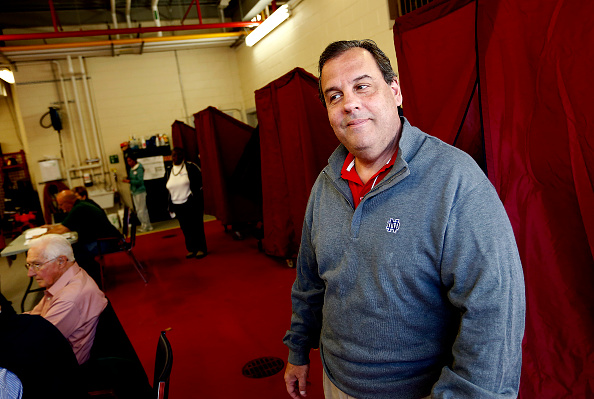 Every time Chris Christie knocks himself down, he manages to get back up. The New Jersey Governor and chairman of the Republican Governors' Association scored big on Tuesday night. Republican-held governorships increased to 31 from 29, with help from the RGA, which raised a record $150 million—a record $106 million of it under Christie—this cycle. 
Christie survived the Bridgegate scandal in New Jersey only to reaffirm his bully reputation last week. His "sit down and shut up" rant at a heckler who turned out to be a devoted Hurricane Sandy volunteer went over about as well as the Ebola virus has in places like Iowa. But Republicans' successes in Tuesday night's governors' races may be the latest road to redemption for the irrepressible (often to a fault) prospective 2016 presidential candidate. Phil Cox, executive director of the RGA, said Christie was "instrumental" to the governors' successes, which will give Republicans "great momentum going into 2016."
"He constantly was on the phone encouraging our candidates, offering counsel, offering advice, support and friendship" as well as money, Cox said. "It was critically important for the RGA and our governors to win in critical battleground states," said Cox, who predicted multiple Republican governors will seek the presidency.
Republicans picked up governorships in Arkansas, Illinois, Maryland and Massachusettes. Christie's biggest investment of time and money—an RGA record-setting $19 million—went to keep Governor Rick Scott in office in Florida, a key presidential state. Wisconsin Governor Scott Walker and Michigan's Rick Snyder prevailed, but the RGA wasn't able to save Tom Corbett in Pennsylvania and the Republican incumbent in Alaska, Sean Parnell, was behind as of midday Wednesday. 
Christie also decided to take the RGA into debt by about $3.5 million to make final pushes in two states—Colorado and Maryland. In Maryland, that choice paid off. Now, those efforts are sure to pay off for Christie. 
Before it's here, it's on the Bloomberg Terminal.
LEARN MORE