Your Guide to 2014 Midterm Election Voting Problems
There was no shortage of voting difficulties on Tuesday.
by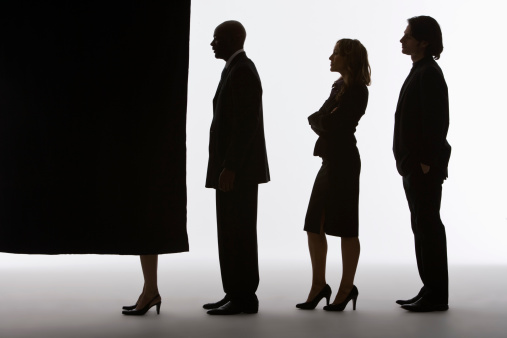 No one ever said democracy would be easy. Sporadic voting problems—some trivial, others more substantial—were reported on Election Day. Here's a run down of the nationwide problems reported Tuesday. 
Illinois: Ruinous Robocall 
Upwards of 2,000 election judges in Chicago didn't show up to their polling places after receiving "malicious" robo-calls giving out erroneous information, the Chicago Board of Election Commissioners said. The board had planned for 10,000 election judges to be assigned for Tuesday's election, and an unprecedented number didn't show up. 
"Whether by design or intent or not, this has the net effect of negatively affecting people's right to vote,'' Jim Allen, spokesman for the board, said. "I covered politics for a long time in Chicago and around the state. This one is a new dirty trick.''
The board, which plans to conduct an investigation, says they calls were placed on Nov. 1.
In addition, a judge extended voting hours until 10 p.m. EST in Lake County after the state Attorney General Lisa Madigan alleged that County Clerk Willard Helander was "illegally interpreting the requirements of the Illinois Election Code" by not allowing residents to both register and vote on Election Day. 
Georgia: Website Issues
Hundreds of voters called to complain about problems accessing their registration status and finding their polling place using the Secretary of State's website. 
"We are experiencing difficulties with [our website]. Our IT folks are working on it. We're throwing resources at it to solve the problem," Jared Thomas, chief of staff and press secretary for the office, told CNN.
As a result, Superior Court Judge Linda W. Hunter ruled that a DeKalb County polling place that opened late could remain open an extra 15 minutes. 
Virginia: Erroneous Votes
A voter at Tallwood Elementary in Virginia Beach shot video of an apparent voting machine glitch. When he touched the name of the Republican Representative Scott Ringell, the machine registered the gesture as a vote for Democratic challenger Suzanne D. Patrick, The Washington Post reported. A poll worker advised the voter to touch the box above Ringell's name to record a vote for the Republican. State Department of Elections spokesman Cameron Sasnett said that a total of 32 voting machines at 25 polling places experienced problems. 
Colorado: Network Crashes
The Statewide Colorado Registration and Election system, SCORE for short, failed in a big way on Election Day. The computer system, which verifies the eligibility of those requesting ballots, was inoperable multiple times following a state Internet outage. While workers switched to a different network and were able to restore service, officials in the state were forced to take SCORE offline again in the afternoon for approximately 20 minutes to try and fix a "networking connection." 
The upshot for voters: Many had to fill out provisional ballots and their eligibility will be checked later. 
Connecticut: Late Starts 
Several polling places didn't open on time in Hartford. Democratic Governor Dan Malloy filed suit at Hartford Superior Court to extend voting hours to 9 p.m. EST.
"Because of delays and other problems at Hartford polling locations, we are filing a complaint in Hartford Superior Court asking that voting hours be extended to accommodate voters who were unable to vote or were discouraged from voting this morning," Malloy said in a statement. "Currently the polls in Hartford are working smoothly and voters can cast their ballots. We encourage everyone to vote."
The Court agreed with Malloy's lawyers, and extended the voting hours. 
Texas: Another Crash 
Shortly after polls opened in the Lone Star state, officials e-mailed counties to inform them that the statewide voter registration system was down. As a result, poll workers were not able to access about voters' registration and eligibility, forcing many people to fill out provisional ballots. 
"If our Judges cannot find a voter in their pollbooks, they are advised to call Voter Registration," Janice Evans, elections director for Brazoria County, told MSNBC. "With the State TEAM System down, Voter Registration cannot look at all the voters in Brazoria County and try and find a person they may not be in the pollbooks. The judge will have to vote the voters provisionally which takes extra time."
Also in Texas, Republican gubernatorial candidate Greg Abbott tweeted about what he said were "ballot irregularities" that kept his own name from appearing. 
North Carolina: Two Problems
Workers in Greensboro delivered the wrong voter rolls to two polling stations, causing a short delay for those casting ballots. Voters were allowed to fill out provisional ballots while the proper rolls were located and delivered.
As in Virginia, some voters reported that electronic machines switched votes for Democrats into ones for Republicans during early voting int he state. 
Florida: Delays and a Motion to Extend
Citing "systemic breakdowns," Democratic gubernatorial candidate Charlie Crist filed an emergency motion in court to keep polls open in Florida's Broward County. Voting got off to a late start there because of mechanical failure and faulty information given out on polling place locations. Crist's motion was denied, although Floridians standing in line in the county were told they could still vote. 
South Dakota: Tardy Poll Workers
After two workers failed to deliver ballots to their assigned polling stations on time Tuesday morning, South Dakota's Secretary of State announced that he would delay the release of election results until 9 p.m. EST, so that voters would have the mandated 12-hour window in which to cast their ballots. 
California: More Websites Down
Election websites proved a bit buggy in California Tuesday, with problems reported in Contra Costa, Ventura, and Shasta counties. The Contra Costa site was down for three hours, and voters were directed to other polling places. 
Before it's here, it's on the Bloomberg Terminal.
LEARN MORE