Let the Finger-Pointing Begin
Progressives say Democrats could win more races if they just looked more like Elizabeth Warren.
Annie Linskey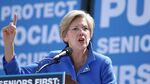 This story contains corrected material, published on Nov. 4, 2014
The polls aren't closed and the progressive wing of the Democratic Party has already started the blame game: Their party would be winning more easily if the candidates were more like Senator Elizabeth Warren. 
That's the message from Democracy for America, a group that supports overhauling the student loan program, expanding Social Security and imposing more regulatory scrutiny on Wall Street. Democrats face an "uncertain election" because "too many ran too little and too late on Elizabeth Warren-inspired populist progressive priorities," said the group's executive director, Charles Chamberlain, in a statement. "The lessons Democrats should take from tonight's election are already clear: Americans are demanding an aggressive response to the country's income inequality crisis and the key to Democrats winning in 2016 will be delivering one."
Chamberlain noted that Democrats Al Franken of Minnesota and Jeff Merkley of Oregon—two Warren acolytes—are experiencing relatively safe Senate re-elections, while Arkansas's Mark Pryor is "thinking about career options."
Warren, the first-term senator from Massachusetts, has emerged as the leader of the progressive wing because of her unswerving support for middle-class issues like raising the minimum wage, consumer protection and lowering the cost of student loans. She's bucked her own party, criticizing President Barack Obama for appointing too many judges with backgrounds in corporate law, and became one of the most sought after surrogates on the campaign trail this year after Bill and Hillary Clinton.  
The problem with the logic is this: Warren stood shoulder-to-shoulder with Democrats who—if polls are accurate—could also be considering other career options. She gave her stamp of approval to Bruce Braley in Iowa, who campaigned on increasing the minimum wage. She stumped for Democrat Alison Lundergan Grimes in Kentucky, calling her "no better fighter for America's middle class." And she headlined a rally for Natalie Tennant, the Democratic Senate nominee in West Virginia. None of them has a clear path to victory. 
A spokesman for Warren didn't immediately respond for comment.
CORRECTION: An earlier version of this story misstated the state that Senator Al Franken represents. It's Minnesota.
(Corrects the state Senator Al Franken represents in the third paragraph.)
Before it's here, it's on the Bloomberg Terminal.
LEARN MORE