As Polls Close, Both Sides Predict Senate Victories
Republicans lead in projections, but Vice President Biden is confident his party will hold 52 seats.
by and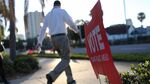 With balloting ending in some of the eastern states with closely watched Senate races, the first wave of exit poll data shows a grumpy national electorate, with 65 percent of those casting ballots saying the country is headed in the wrong direction.
That sour mood could translate to Republican gains in the Senate, if voters punish Democrats.
"We've got to be better messengers," former Senate Democratic leader Tom Daschle said this evening on Bloomberg Television's "With All Due Respect" program. "I don't think we have articulated it nearly as effectively as I wish we could," he said, in a reference to the party's legislative accomplishments. If Republicans do gain control of the chamber, Daschle called on President Barack Obama to immediately reach out to the party's leaders to try to shape a joint agenda for the future.
"I think he needs to say, 'Let's have breakfast tomorrow. I want to talk about a mutual agenda,'" Daschle suggested. He also recommended the president meet with Mitch McConnell, the potential Senate majority leader if partisan control of the chamber shifts, "at a minimum, once a week."
Rick Santorum, a 2012 Republican presidential candidate considering a second bid in 2016, said his party will also need to put forward new ideas to win nationally. "We haven't had a whole lot of leadership about laying out a positive, proactive agenda that helps average Americans," Santorum said on the show. He also criticized his party for not running a stronger 2014 campaign. "In my opinion, they shouldn't be close races," he said. "This should be a blowout, given where the president's popularity is."
As accusations of voter intimidation surfaced in the Midwest, Vice President Joe Biden predicted Democrats will surprise critics and retain control of the Senate, even as Republicans said they're feeling pretty confident.
"I think we're going to have a good day," McConnell, the current Senate Republican leader said Tuesday after casting his vote in Kentucky. "I'm hoping we're going to have a new majority to take America in a different direction." In a video distributed to his supporters, Texas Senator Ted Cruz predicted: "If conservatives show up and vote, we're going to retake the U.S. Senate. We're going to retire Harry Reid as majority leader."
Biden, in a radio interview with Connecticut rock station WPLR, said Democrats would hold 52 seats when it's said and done. The vice president predicted Democrat Michelle Nunn will win Georgia's open Senate seat outright, a post that's currently held by retiring Republican Saxby Chambliss and that many expect to be decided a January runoff. Biden also sees wins for Democratic incumbents in Alaska, New Hampshire and North Carolina, while Senator Mary Landrieu may have to fight it out in a Louisiana runoff. Landrieu, casting her ballot in New Orleans, smiled and gave a thumbs-up to a crush of news cameras saying she knows what victory feels like. "I can feel it on the street," she said. "I can feel it when I go into gas stations or restaurants."
In Chicago, election judges said they got automated phone calls between Oct. 31 and Nov. 3 with false instructions about how to vote or required training, according to a Chicago Sun-Times report. In Pontiac, Michigan, the state Democratic Party cited reports of voter harassment and intimidation by Republican poll challengers. According to a statement from the party, eyewitnesses saw Republican observers question legally-cast ballots and election workers repeatedly asking them to step back, with a clerk calling police for help.
After blowing opportunities to win Senate control in 2010 and 2012, several political modeling outlets found the Republican Party poised to gain the six seats needed to win the chamber, even if that outcome isn't immediately known.  The Washington Post reported a 97 percent chance of the GOP taking over the Senate; The New York Times, gave them a 70 percent chance; and FiveThirtyEight, saw a 76.2 percent chance of a Republican takeover.
Americans casting ballots will answer that and other questions, including the political environment Barack Obama will face in the final two years of his presidency. The voting comes after the most expensive midterm campaign in history—totaling at least $3.67 billion, according to the Center for Responsive Politics.

Central to Republican chances of regaining Senate control was the party's ability earlier this year to nominate candidates who avoided some of the politically self-destructive ways of some of their mostly Tea Party-aligned predecessors in 2010 and 2012. Still, polls show several Senate races tight and Democrats are still holding out hope for keeping control. Republicans are near-certain to expand their House majority and multiple incumbents from both parties look vulnerable in the nation's 36 governor's races.
The increasing popularity of early voting—an estimated 17 million people have already cast ballots nationwide—has meant that the candidates and parties have been speaking to a dwindling crop of potential voters in recent weeks. Watching on the sidelines are party and interest group lawyers monitoring polling places, especially in states where the results are expected to be the closest such as North Carolina, Georgia and Louisiana.
Voters will deliver their verdict following a year when negative campaigning dominated, outside groups expanded their influence and voters expressed disgust with both political parties and Washington.



Their markings on ballots will finally silence the endless stream of attack ads via television, telephone and mailbox that they've suffered through for months—except perhaps for those in states where there may be runoffs. The volunteers and campaign workers still have one last task: "Once all the polling is done, the last TV spots are rotated in, the last mail drops, the last digital ads are trafficked, everyone goes into the field," said Pete Giangreco, a Democratic strategist who worked on both of Obama's presidential campaigns. "Knocking on doors beats sitting in an office drinking coffee and thinking deep thoughts."
Michael McDonald, a political science professor at the University of Florida, estimates 90 million people will cast ballots in the midterms—roughly 41 percent of eligible voters. About 27.5 percent will do so before Election Day, he projects, up from 24.9 percent in 2010. States with competitive contests will see early voting percentages substantially higher. As of Monday, about 1.4 million people had already voted in Colorado from the ranks of a midterm electorate in the state expected to be about 2.1 million. Home to a competitive contest between Democratic incumbent Mark Udall and Republican Congressman Cory Gardner, Colorado also has a newly passed law that requires that a ballot be mailed to every voter.
In Iowa, where Republican Joni Ernst and Democrat Bruce Braley are in a close Senate race, more than 431,000 had already cast ballots by the end of the weekend with total voting expected to exceed 1.1 million. The Iowa race also showed the amount of uncertainty that remains in many of the contests. An Iowa Poll by the Des Moines Register released over the weekend showed Ernst with a 7-percentage-point lead, while one published Monday by Quinnipiac University showed a dead heat, 47 percent to 47 percent.
Both parties have already reserved post-election TV time in Louisiana, where Landrieu and Republican Representative Bill Cassidy are expected to go to a runoff election on Dec. 6. Party officials say the cost of that race alone could reach $70 million, pushing the price tag of the midterms even higher. 
At least three states—South Dakota, Montana and West Virginia—are poised to flip Republican. To win the Senate, Republicans must take three more seats from seven states: Iowa, North Carolina, Arkansas, Alaska, Colorado, New Hampshire and Louisiana. The possible loss of Republican seats in Kansas and Georgia has given Democrats hope that those contests might help offset losses elsewhere. That calculation is complicated by Greg Orman, a Kansas independent who hasn't said which party he'd caucus with if elected.
With tight races in battleground states around the country, voters can expect to have some company at the polls: lawyers. Both parties have legal teams prepped and ready to go to work should irregularities start popping up. Outside groups have thousands of volunteers keeping a close eye for mischief. Voter hotlines have been set up. Smartphone apps have been developed. And just about everyone is preparing for the possibility of recounts.
Federal court rulings on new state election laws—and the Supreme Court actions that followed—have put civil rights advocates on edge in advance of Election Day. Those laws, ranging from requiring photo identification at the polls to cutting back on early voting periods and the ability to cast a ballot at the wrong polling place, have sparked a fiercely partisan debate in recent years. Republicans, who have pushed the measures in state legislatures around the country, say the laws are intended to prevent voter fraud and streamline government operations. Democrats have called them deliberate efforts to suppress votes.
While lawyers on both sides say they don't expect the latest rulings to have a major impact on the midterms, the issue has resonated throughout the campaign season. U.S. elections tend to be a fairly seamless process, with the exception of sometimes long lines. In 2012, Democratic legal teams set up in Chicago and their Republican counterparts in Boston spent the day dealing with minor issues, but for the most part weren't required to engage. A key difference this year is how close the races appear to be in the home stretch. The closer the election, the more likely lawyers are going to get involved.
— Chris Christoff, Elizabeth Campbell, Zain Shauk, Peter Cook, Phil Mattingly and Lisa Lerer contributed to this article. 
Before it's here, it's on the Bloomberg Terminal.
LEARN MORE