Tom Harkin Apologizes for 'Taylor Swift' Comment
The Democratic senator said he doesn't care if GOP Senate candidate Joni Ernst is "as good-looking as Taylor Swift."
by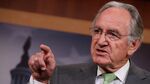 Retiring Iowa Senator Tom Harkin is catching heat for commenting on Republican Senate candidate Joni Ernst's looks by saying at a recent political appearance that "I don't care if she's as good-looking as Taylor Swift."
Harkin, a Democrat whose seat is up for grabs on Tuesday, made the remark at a barbecue in his honor last week, according to a video published by BuzzFeed on Sunday. In it, Harkin says that Ernst, a state senator running against Democratic Representative Bruce Braley, comes off as being attractive and nice in her political ads, but that those qualities do not a desirable senator make. 
"There's sort of this sense that, 'Well, I hear so much about Joni Ernst. She is really attractive, and she sounds nice,'" Harkin said. "I don't care if she's as good-looking as Taylor Swift or as nice as Mr. Rogers, but if she votes like [Minnesota GOP Representative] Michele Bachmann, she's wrong for the state of Iowa."
Ernst responded to the comment on Iowa's KCCI 8 News on Monday, saying she was offended by it, but that "you know what, hey, just as Taylor Swift would say, 'shake it off,'" according to  a transcript provided by a spokeswoman, Caitlin Conant.
"If my resume had the name Jon Ernst at the top of it, Senator Harkin would not be making those statements," Ernst said, according to the transcript. "So it's very unfair for someone that is sitting in a United States senatorial seat to say he's supportive of everyone regardless of gender, but he's not." 
Other Republicans also jumped to point out the comment. 
"So incredibly insulting," said National Republican Senatorial Committee spokeswoman Brook Hougesen on Twitter.
On Monday, Harkin issued a statement apologizing for the remarks. 
"I shouldn't have said those things, I know that," Harkin said. "I regret anytime someone feels offended by what I have said. But I am only human and I can make mistakes sometimes in how I say something. In fact, I have complimented her on running a very good campaign." 
Ernst was shown up by 7 points in the latest Des Moines Register Iowa Poll this weekend. If elected, she would become Iowa's first female U.S. senator.
Before it's here, it's on the Bloomberg Terminal.
LEARN MORE