Poll: It's the GOP's Senate to Lose
While voters are almost evenly split about which party they'd like to control the U.S. Senate, individual state polls give the edge to the GOP.
by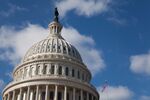 A narrow majority of Americans is hoping that Republicans take control of the U.S. Senate, a new NBC/Wall Street Journal concludes. While 46 percent of those surveyed said they wanted a GOP-controlled Senate, 45 percent said they wanted Democrats to remain the majority party. 
Separate NBC/Marist poll numbers from battleground states, however, give Republicans much more reason to feel confident that they will take the reigns of Senate power. GOP Senate candidates have built leads in Georgia, Kentucky, and Louisiana, the polls found, a tandem of states that could push the party past the threshold of six pickups needed to overtake Democrats for control of the Senate. With the most recent Des Moines Register poll showing Republican Joni Ernst with a seven-point lead over Democrat Bruce Braley, the new numbers show how difficult it will be for the president's party to retain Senate power. 
While the GOP enjoys a nationwide advantage with men (53 to 38 percent), Democrats hold roughly the same advantage among women (52 to 39 percent). White voters favor the Republican party (54 to 37 percent), while black voters overwhelmingly break Democratic (92 to 4 percent). Latino voters also heavily favor Democrats (51 to 31 percent). 
Before it's here, it's on the Bloomberg Terminal.
LEARN MORE