Mike Huckabee May Be Planning an Iowa Encore
As the former governor considers a second bid for the presidency, he's hitting the campaign trail to make friends and raise his political profile.
by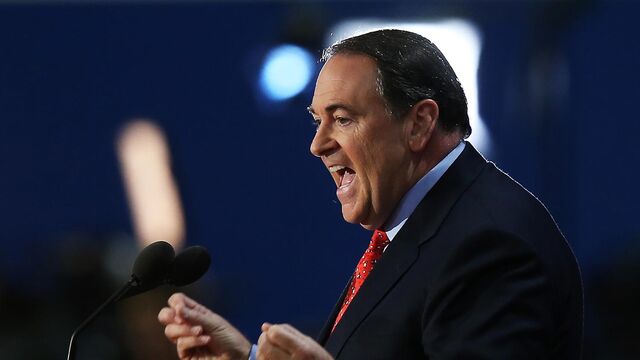 Mike Huckabee's pitch for Joni Ernst followed the script: Keep the focus on Iowa's Republican Senate candidate and fire up the crowd. But if you looked around the room, it might have been hard to tell exactly who was running for office, Huckabee or Ernst.
There in a Council Bluffs grocery's community room stood four veterans of Huckabee's political operation, some going back years. Chad Gallagher, executive director of Huckabee's political action committee, was in one corner, not far from Alice Stewart, his 2008 presidential campaign spokeswoman. Eric Woolson, Huckabee's former Iowa campaign manager, was across the room. And leaning against a wall in the community room's kitchenette was Chip Saltsman, the 2008 national campaign manager.  
They stood as if they were ready to get the band back together, and perhaps they were.
For the past year, Huckabee has done the things that would-be presidential candidates do: talking to party activists and donors, traveling extensively in support of 2014 congressional candidates, tossing money to some of them, and keeping his name in the mix. He's weighing whether his sunny style of social conservatism could be a good fit for a party that's showing every sign of having a wide-open–and crowded–2016 primary field."I'm getting a lot of encouragement from places where I didn't get it eight years ago, and that's encouraging to see and hear," Huckabee said.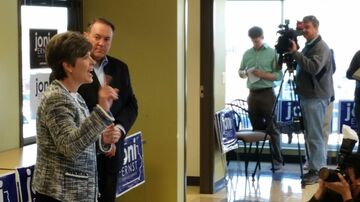 If he does run, Iowa would be central to Huckabee's effort. The former Arkansas governor and Baptist minister remains popular with Republicans here after coming from seemingly nowhere in 2008 to win the state's lead-off caucuses. He faded in other states for lack of money and organization, and ultimately finished a distant second to nominee John McCain in total convention delegates.
Four years later, Huckabee contemplated a second bid but ultimately stayed out to focus on his lucrative broadcasting, speaking and publishing career. While he may be trying to keep the buzz about a potential 2016 bid alive for the sake of that other career, Huckabee clearly still loves to campaign. 
"Who's this pretty girl?" he asked one mother holding an infant, as he jumped into the crowd of about 75 people, eagerly shaking hands and posing for selfies with anyone who approached. Like the others contemplating 2016 bids, Huckabee said his main focus for now is helping Republican candidates in the midterm election. A decision on a second presidential bid won't come until "early spring," he said.
The modern-era Republican Party has a history of rewarding presidential candidates on their second or third try. McCain, Mitt Romney, Bob Dole, George H.W. Bush and Ronald Reagan all won their party's nomination after failed initial attempts. "The advantage that I have is that I've done it before," Huckabee said. "Talking about it is pretty easy. Doing it is pretty hard."
Saltsman, a longtime political operative who was once chairman of the Tennessee Republican Party, said Huckabee would have a much easier time in a second bid. "We wouldn't start out as an asterisk," he said. "People know him. They have heard him on the radio and seen him on TV. That is not a bad place to start."
Still, Huckabee could run into the same roadblocks he did in 2008, when he wasn't able to translate his strong showing in Iowa into a national political organization.  An added challenge: Evangelical voters, who supported him strongly in 2008, are not as powerful a bloc as they once were.
"Unless he really gets serious about raising money after the first of the year, his prospects could be roughly similar," said Linda Fowler, a government professor at Dartmouth College in Hanover, N.H.
Janelle Stephens, a self-employed health coach, is one of the Iowans who is urging Huckabee to run again. She attended his event at the Hy-Vee grocery and closely follows the Twitter hashtag #hopingforhuckabee. "He's organized in Iowa," she said. "We are chomping at the bit to support him. We're just waiting for the green light."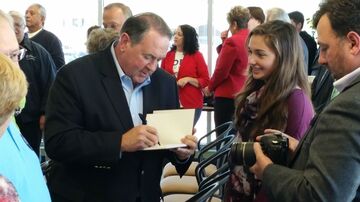 Sharon McNutt, another Iowa Republican activist who attended the event, said Huckabee's Fox News television show has helped the state's residents feel like he's still visiting their homes, even if mostly just electronically in recent years.
"He's conservative and has common sense," she said. "And he doesn't take himself so seriously all the time."
A Bloomberg Politics/Des Moines Register Iowa Poll taken in early October showed Huckabee as the first choice for 9 percent of Republicans who plan to attend the 2016 caucus. That was a stronger showing than former Florida Governor Jeb Bush, New Jersey Governor Chris Christie, Senator Ted Cruz of Texas, Representative Paul Ryan of Wisconsin and several other potential candidates. Roughly six in 10 likely caucus participants held a favorable view of him.
Still, Huckabee trailed Senator Rand Paul of Kentucky and neurosurgeon-turned-conservative-activist Ben Carson, as well as 2012 nominee Mitt Romney, who has repeatedly said he isn't running for a third time.
Huckabee said he's worked hard to maintain his relationships in Iowa, although he appreciates that he would have to re-convince some past supporters.
 
"There's never been a year I haven't been back here in the eight years that the process, for me, started, so it's not like I would have to start from scratch and rebuild all the relationships," he said. "I would have no presumption that everybody who was for me would be with me again. But one of the reasons I'm even considering it is because so many of those people who were with me have written, called, every time I come they show up and they urge me to take another run at it."
Huckabee's political action committee, HUCKPAC, has raised $1.8 million since January 2013, while spending $1.6 million. That's roughly half the fundraising and spending of Paul's PAC during that period. Some of Huckabee's PAC money went to legislative and statewide candidates in early nomination contest states such as Iowa, investments that could pay political dividends in 2016.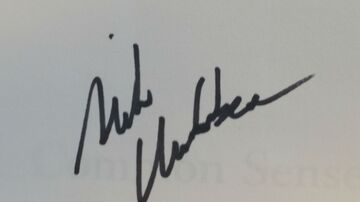 Another advantage Huckabee said he would have, should he run, is a keen knowledge of a former Arkansan who might just run for the Democratic nomination.
"I know the Clintons better than anybody that might possibly run on the Republican side, so I have that distinct advantage," he said. "[Hillary Clinton] would be a very formidable candidate, there's no question about it. She brings the celebrity, the connections within the Democratic circles."
But then, in a familiar Republican attack, he added: "She also brings the baggage. She owns a big piece of Barack Obama's foreign policy. She cannot run from that. There's no way to take those tattoos off."
Asked whether a potentially crowded Republican field might give an advantage to a better-known candidate–such as himself–Huckabee had a quick response. "If I were to decide to do this, I think the smart thing for everyone else is to decide not to," he joked.  
Before it's here, it's on the Bloomberg Terminal.
LEARN MORE