John McCain Weighs In On Palin Family Brawl
The Arizona senator sees a pattern of media bias directed against his former running mate.
by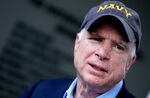 The more things change in relationship between the media and Sarah Palin, the more they stay the same. At least that's the view of Senator John McCain, the man who helped Palin take her place on the national political stage. Discussing the way the media pounced on the news that the Palin family was involved in Sept. 6 brawl at a private home in South Anchorage, McCain told Phoenix news affiliate KTVK that he said he saw a familiar pattern. 
"I just know that the kind of coverage that this got, in my view, is in keeping with the kind of coverage the liberals have accorded to Sarah Palin for a number of years, which in my view, is biased and unfair and sometimes unacceptable," McCain said. 
At the same time, however, McCain admitted that he didn't know many of the details about the fight. 
"I think these family affairs are—I don't know much of the details about it," McCain said. "Things happen in people's families and I'm not excusing it, I'm not condemning it."
As for Palin's remarks last week that is considering running for office again, McCain offered a note of caution. 
"She didn't ask my advice, but I had hoped she wouldn't have stepped down when she did as governor of Alaska," McCain said.
Before it's here, it's on the Bloomberg Terminal.
LEARN MORE