Ernst Holds 7-Point Lead in Senate Race's Last Iowa Poll
Among independent voters, Iowa's largest voting bloc, the Republican enjoys a 51 percent to 39 percent lead over Democrat Bruce Braley.
by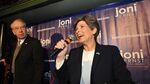 Republican Joni Ernst enters the final days of Iowa's Senate race with a 7-percentage-point lead over Democrat Bruce Braley and holds substantial advantages with independent and male voters.
The final Des Moines Register Iowa Poll of likely voters before Tuesday's election shows Ernst leading Braley, 51 percent to 44 percent. The survey, taken Oct. 28-31, has a margin of error of plus or minus 3.7 percentage points.
Among independent voters, Iowa's largest voting bloc, Ernst enjoys a 51 percent to 39 percent lead over Braley.
"These numbers don't show a lot of wiggle room," said J. Ann Selzer, president of West Des Moines-based Selzer & Co., a firm that conducted the poll for the Register and also does polling for Bloomberg Politics. "That said, there's never been as much money spent in Iowa to sway voter opinions."
The poll shows a contradiction to Democratic claims that their party is turning out more early voters who did not vote in the 2010 midterm election, Selzer said. Those who didn't vote in 2010 are backing Ernst 55 percent to 38 percent and repeat voters are backing her 51 percent to 44 percent.
Even in Braley's home congressional district, an area he's represented since 2007, he is trailing Ernst by 3 percentage points.
Braley does hold a 52 percent to 41 percent lead among those who have already cast their ballots during Iowa's early voting period. Among those who say they have not yet voted but definitely plan to do so, Ernst leads 57 percent to 39 percent.
The gender gap that's been exhibited throughout the race continues as women back the Democratic man 51 percent to 44 percent, while men back the Republican woman 58 percent to 36 percent.
Most Ernst supporters aren't motivated by the possibility of her becoming the first woman to be sent to Congress by Iowa, with just 5 percent of her backers saying that's one of the strongest reasons to support her, the poll shows.
Ernst also holds an edge with married voters, who represent 65 percent of the likely electorate. They back Ernst 54 percent to 42 percent, while Braley holds a narrow advantage among singles, 47 percent to 45 percent. Braley's advantage with singles is driven entirely by unmarried women. They go for him by 26 percentage points, while unmarried men back Ernst by 23 percentage points.
A remark Braley made earlier this year about Republican Senator Chuck Grassley of Iowa that's been perceived as besmirching farmers is his biggest mistake in the eyes of voters, with even 39 percent of his own voters calling it his worst campaign goof.
The negativity of the race has hurt Braley more than Ernst, with 44 percent of likely voters saying he was more negative and 32 percent saying that of Ernst. Almost half—48 percent—say Ernst is the one who has taken the most extreme positions on issues.
Iowa's Republican governor, Terry Branstad, holds a 59 percent to 35 percent lead in the poll over Democratic challenger Jack Hatch. 
Enjoy this article? Don't forget to follow @BPolitics on Twitter and like Bloomberg Politics on Facebook
Before it's here, it's on the Bloomberg Terminal.
LEARN MORE