Who's Giving Late Money to Super-PACs? Wait a Month, and You'll Find Out
The names of donors who cut checks after Oct. 15 won't be disclosed until after the election.
by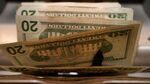 Want to give a big donation to a super-PAC to lay a late hit on a political opponent and don't want anyone to know until after the election? Do it right now.
Actually, you could have done so and gotten away with it as long ago as Oct. 16, a full 19 days before Tuesday's vote.
That's because political committees including super-PACs, the independent groups that can accept donations in unlimited amounts, aren't required to disclose the names of donors who gave money between that date and Nov. 24 until Dec. 4, a full month after the election. Their most recent disclosure reports covered the period Oct. 1 to 15 and had to be filed by Oct. 23.
For candidates, the rules are different. They also had to file disclosure reports for the Oct. 1-15 period, but during in the 20 days before the election they're also required to disclose within 48 hours any contributions or loans of $1,000 or more.  And unlike super-PACs, federal candidates can accept a maximum of $2,600 per election from an individual donor.
Super-PACs have to disclose spending intermittently through Election Day, but not the donors who can give as much as possible. Another loophole for donors seeking anonymity: They can write big checks to nonprofit groups, who can participate in campaign politics in a limited way. (The extent of that limit is hotly debated, and the IRS will revisit the issue sometime after the election.)
The wrinkle in campaign finance law explains why you'll see super-PACs' political spending exceed their reported contributions. For example, the super-PAC Committee to Elect an Independent Senate has reported spending more than $3.5 million opposing Kansas Republican Senator Pat Roberts or supporting independent challenger Greg Orman, though it reported just $727,000 in donations through Oct. 15. The Republican super-PAC B-PAC has spent more than $2.2 million on Senate races while disclosing $1.62 million in donations through Oct. 15.
Who provided the missing funds? We won't know until after the election. 
Before it's here, it's on the Bloomberg Terminal.
LEARN MORE