The 11 Greatest Hits of the 2014 Debate Season
Debate season is almost over, but some moments will live on, no matter how hard we try to forget.
by and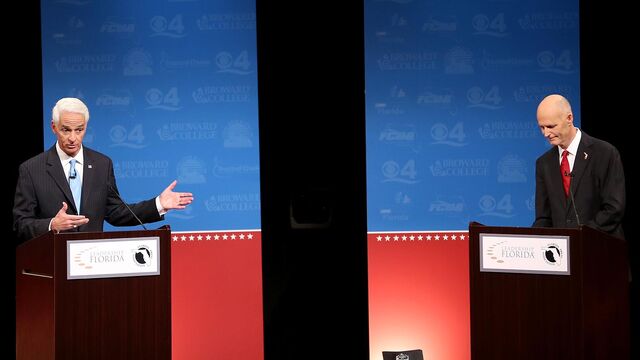 The privacy of the presidential ballot. The proverbial turd in the punchbowl. The most important fan in Florida.
These are some of the memorable moments in the 2014 debate season, and it's not yet over: In Minnesota, Democratic Senator Al Franken and Republican Mike McFadden will have their final meeting on Sunday, as will Georgia's Michelle Nunn, the Democratic nominee, and David Perdue, the Republican.
Appearing on stage in the final days of the election season presents candidates with a unique set of risks and rewards, said Neil Levesque, executive director of the New Hampshire Institute of Politics & Political Library at St. Anselm College, which hosts the Granite State Debates. The debate series is regularly held at the end of the campaign, when most voters are paying attention. That's generally a positive for candidates who are well practiced from months of campaigning.
But the timing always harbors some jeopardy. In the 1992 Granite State Debate, Democratic nominee John Rauh—a somewhat recent transplant to the state—was ahead in the polls when he failed to answer a debate question that tested his geography of the state by asking for the location of the small town of Chester. "He looked into the camera, his numbers dropped, and Judd Gregg became senator," Levesque recalled.
"A lot of people know who they're going to vote for by now, but they still want to see how they're going to do in the last debate," Levesque added. "You don't want to screw up, that's priority No. 1. But I'd say these candidates at this point are on top of their game. They've been saying what they're going to say over and over, and they've practiced for these debates for weeks. They're pros at this point."
With that, here is our list of the best, worst, strangest and most important moments of the 2014 debate season:
1. Vermont's Socialist Secessionist
"I am a revolutionary, nonviolent socialist and I am a secessionist," Peter Diamondstone, a member of the far-left Liberty Union party, said at the start of a seven-candidate debate that included Democratic Governor Peter Shumlin. Diamondstone wasn't even the most unconventional candidate on the dais. "You are uncivilized!" Cris Ericson, an independent candidate and hat aficionado, said to the governor.
2. Vermont's Pirate Captain
We need to be covering Vermont politics more closely. In a debate on Oct. 23 among candidates seeking the state's lone House seat, Ericson (yes, she's seeking both offices) introduced herself as a "pirate captain," sporting the headgear to meet the description.
3. The Kansas Backhand
Asked to say something nice about his opponent, Senator Pat Roberts, a Kansas Republican, wasn't quite up to the task. "You are a very well-dressed opponent," Roberts told Greg Orman, a wealthy businessman seeking the seat as an independent. "I admire your accumulation of wealth. I have a little question about how you got there from here, but I think that's the American dream." (Jump to the 50:26 minute mark below for the exchange.)
4. Emotional in Massachusetts
Republican Charlie Baker was asked by a moderator to "describe the last time you cried." He struggles to hold back tears telling a five-year-old story of a fisherman who had to tell his sons they couldn't go to college. "I told them, 'No,'" Baker said, quoting the fisherman. "I said, 'You're going to be fishermen. I was a fisherman. My brothers were fisherman. My father was a fisherman. You're going to be a fisherman.' And those kinds of stories, you hear those kinds of stories every day."


5. Kentucky's Right to Avoid Saying You Voted for Obama 
After refusing to say who she voted for as president in 2012, all eyes were on Alison Lundergan Grimes, the Democratic nominee for Senate in Kentucky, to see how she would answer the question in this debate. She punted again (at the 12:56 mark in the video below), dropped in the polls and the party pulled its spending on TV ads. Lundergan Grimes has since rebounded and the Democratic machine went back on the air.
6. Kentucky's Little Ol' Website
Lundergan Grimes wasn't the only one who had a rough moment. Hundreds of thousands of Kentuckians have signed up for health care, which makes things a bit awkward for Senate Minority Leader Mitch McConnell. Asked about this contradiction during the same debate, McConnell says that Kentucky Kynect is just a website (at the 34:23 minute mark above). "The website can continue," McConnell said about the state exchange that exists because of the federal health law. "But in my view, the best interest of the country would be achieved by pulling out Obamacare root and branch." (For a good breakdown of McConnell's parsing, read the Washington Post's Glenn Kessler.)
7. Maine's Bromance
Republican Governor Paul LePage exchanged high-fives in this debate with independent Eliot Cutler, who is siphoning off the opposition vote in Maine's race, hurting Democrat Mike Michaud's chances at winning the seat. Cutler, who narrowly lost to LePage in 2010, now seems guilty about his spoiler role. "Anyone who has supported me, but who now worries that I cannot win, and is thereby compelled by their fears or by their conscience to vote instead for Mr. LePage or Mr. Michaud should do so," he told reporters on Wednesday.
8. Everything About This Idaho Debate
Harley Brown, who was among three challengers to Republican Governor Butch Otter in the May primary, said during a debate that he had a "master's in raising hell" and was as politically correct as a "proverbial turd in a punchbowl." Walt Bayes brags about his ability to stand "on my hind legs like a man" and assesses the political landscape thusly: "I honestly think half of the Republican Party is Democrats, and half of the Democratic Party is Communists."
9. Louisiana's Grading Curve
Democratic Senator Mary Landrieu aired a TV ad earlier this year denouncing Obama's energy policies. Asked whether she'd campaign with him, Landrieu said the president is probably too busy. Asked to grade his job performance during a debate, Landrieu gave him a "6 to 7." "He's had some really tough issues to deal with," she said. Republican Bill Cassidy was less charitable, giving him a zero and saying Obama is "going to go down as one of the worst presidents in American history."
10. New York Crosstalk 
You wouldn't want to try transcribing this crosstalk-laden debate between Republican Representative Michael Grimm and Democratic challenger Domenic Recchia, a former Brooklyn councilman. But it's very entertaining television between two outsized personalities.
11. Florida, Florida, Florida
You didn't think we'd forget this one, did you? Florida's Republican governor, Rick Scott, initially refused to emerge from backstage for a debate, leaving moderators to explain to viewers that there was a spat over whether or not Democratic challenger Charlie Crist could use a fan near his podium. "Ladies and gentlemen, that has to be the most unique beginning to any debate not only in Florida, but I think anywhere in the country," moderator Eliott Rodriquez told the crowd.
Crist, who pled ignorance over the ordeal, was fingered as the culprit by debate organizers the next day. It was all pretty much par for the course in this race.
 So what did we miss? Tweet us at @bpolitics.
Before it's here, it's on the Bloomberg Terminal.
LEARN MORE