Landrieu Stands By Her Theory of Obama's Unpopularity
The senator says that the president's energy policies are mostly to blame, but that there's another factor at work.
by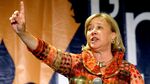 Louisiana Senator Mary Landrieu is defending her assertion that President Barack Obama is unpopular in her state in part because of racism.
On Thursday, in an interview with NBC's Chuck Todd, the Democrat said Obama was unpopular in Louisiana mostly because of his energy policies, particularly his decision to shut down offshore drilling in the Gulf of Mexico following the BP oil spill. But, she added:
I'll be very, very honest with you. The South has not always been the friendliest place for African-Americans. It's been a difficult time for the president to present himself in a very positive light as a leader. It''s not always been a good place for women to present ourselves. It's more of a conservative place. So we've had to work a little bit harder on that, but you know, the people trust me, I believe. Really they do. Trust me to do the right thing for the state.
Republicans, including Landrieu's opponents in Tuesday's election, Representative Bill Cassidy and Rob Maness, attacked the comments. Governor Bobby Jindal tweeted that the statement was "remarkably divisive" and that it was "a major insult ... to the people of Louisiana."
Landrieu, who is in a tight race with Cassidy and is expected to face him in a December runoff, stood by the comments in a statement released Friday: 
"The main reason the President has struggled here is because his energy policies are not in line with the people of Louisiana. We are a pro-drilling, pro-oil, gas state. The offshore moratorium was extremely unpopular and, in my opinion, wholly unwarranted. It made a lot of people angry and put many businesses at risk. In addition, the South has not always been the friendliest or easiest place for African Americans to advance, and it's been a difficult place for women to be recognized as the leaders we are. Everyone knows this is the truth, and I will continue to speak the truth even as some would twist my words seeking political advantage."
Before it's here, it's on the Bloomberg Terminal.
LEARN MORE