Christie Says a Dozen Governor Races Are Too Close to Call
Mark Niquette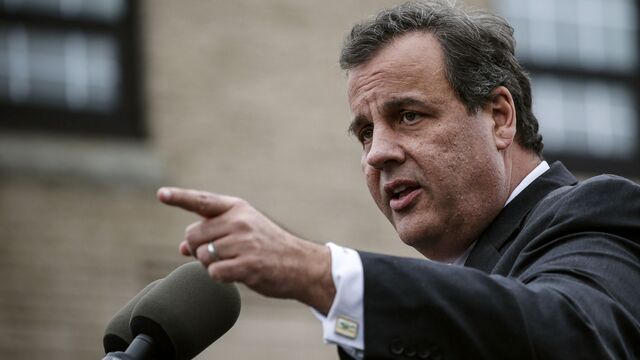 One-third of the 36 U.S. races for governor are too close to call in the final days before the Nov. 4 election, New Jersey Governor Chris Christie said.
"We have a chance to have a very good night on Tuesday night, but we can't take anything for granted," Christie said in an interview this morning during a stop at a pancake breakfast in suburban Columbus for Ohio Governor John Kasich.
Christie, chairman of the Republican Governors Association and a potential 2016 presidential candidate, is appearing with Republican candidates in 19 states in five days before the election. After his stops in Ohio, Christie is scheduled to attend events today in Georgia and Florida and tomorrow in South Carolina, Illinois, Maryland and Pennsylvania.
In the U.S., there are 29 Republican governors, and they hold 22 of the 36 offices in the Nov. 4 elections. There are 19 Republican and nine Democratic incumbents running, with eight open seats.
Haley Barbour, the former Mississippi governor and RGA chairman who also traveled to Ohio, agreed with Christie's assessment that there are about 12 very close races. Republicans and Democrats each control about half of those seats, he said.
"I think we will win some Democratic seats, but we're going to lose a couple seats, too," Barbour said in an interview. "It's a very competitive year."
Ohio is not among those states. Kasich, 62, has a double-digit lead in polls after a series of missteps and lackluster fundraising by his Democratic challenger, Cuyahoga County Executive Ed FitzGerald.
Ohio's Example
Kasich, who is also being mentioned as a potential presidential or vice-presidential candidate in 2016, is promoting his first-term agenda as an example for the U.S. It includes cutting taxes and expanding Medicaid under President Barack Obama's health-care overhaul to help people with mental illness or who "live in the shadows" of society.
"We're showing that we can tackle the toughest problems, that no one -- including our friends in the minority community - - will be left out," Kasich said at a rally in an airport hangar in Columbus. "We're uniting the state, and by uniting the state, we can help unite the country."
FitzGerald spokeswoman Lauren Hitt said in a statement that Kasich's policies on gun control, women's rights, energy and early voting are "backwards" and that "Ohioans deserve better."
Christie said Kasich shows that Republicans can be true to their fiscal policies while still helping the least fortunate.
"When our Republican Party is at its best, we can walk and chew gum at the same time," Christie said at the airport rally.
Before it's here, it's on the Bloomberg Terminal.
LEARN MORE