Weak Wages Stir Voters' Ire at Obama
Mike Dorning and Lorraine Woellert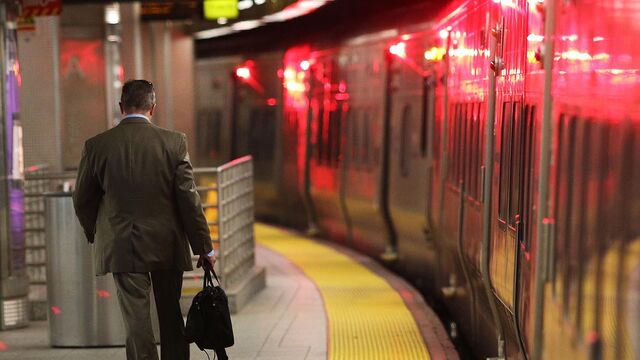 The U.S. economy has posted its strongest six months of growth in more than a decade, news that usually would be a boon to the party in power heading into congressional elections.
Yet President Barack Obama and Democrats haven't been able to take credit for the gains. On Election Day, they're at risk of losing control of the Senate, though it is the Republicans who have blocked measures aimed at strengthening growth.
That's because Americans say they don't feel the progress in their daily lives and blame both parties for the political deadlock in Washington. The U.S. government's failure to address the economy's main weakness -- stagnant middle-class earnings -- damages Democrats the most.
"This wage squeeze on the working and middle class is real, and it is causing an enormous amount of frustration and anger," said Charlie Cook, editor of the Cook Political Report in Washington. "Voters are looking to send signals, and they're going to blame the party in the White House."
The Republicans, who control the U.S. House, have blocked Obama's proposals to boost worker pay such as increasing the minimum wage, extending unemployment insurance and spending more on the infrastructure to spark growth. Economists say those plans would raise living standards and speed the recovery.
At the same time, Republican-backed measures, geared toward tax cuts and deregulation, have gone nowhere in the Democratic-run Senate. Republicans need a net gain of six seats for a Senate majority.
Low Approval
Obama's 43 percent job-approval rating is close to the lowest of his presidency as almost three-quarters of Americans hold a negative view of the economy -- the subject of voters' greatest concern, according to an ABC News-Washington Post poll released on Oct. 28.
Obama addressed voters' frustration at a rally today in Providence, Rhode Island.
"Millions of Americans don't yet feel the benefits of a growing economy where it matters most, and that's in their own lives," Obama said at Rhode Island College. "We've got to harness the momentum we're seeing in the broader economy."
Economy Grows
The discontent simmers even as growth shows signs of accelerating. The government said yesterday the economy expanded at a 3.5 percent annualized rate in the three months ended in September after a 4.6 percent gain in the second quarter, capping its best back-to-back showing since the last six months of 2003.
And the Federal Reserve this week decided the recovery is firmly enough established that it will end its unprecedented asset-purchase program.
Yet the lingering dissatisfaction is stoked by weak wages: Weekly earnings for full-time workers are lower than in the period just before the recession. The buying power of that worker's paycheck is no higher than it was in 1999.
Consumer spending in the U.S. unexpectedly dropped in September, falling 0.2 percent, a weaker performance than any economist projected in a Bloomberg survey, the Labor Department reported today. Incomes rose at the slowest pace of the year, the report showed.
Sixty-three percent of likely voters say the federal government's ability to deal with the country's problems has worsened in the past few years, according to the poll.
Targeting Obama
Hostility toward Obama is the centerpiece of the Republican election campaign. Forty-nine percent of TV ads aired in the past month by the party's candidates, committees and allied groups featured an anti-Obama message, according to data through Oct. 27 compiled by Kantar Media's CMAG, a tracking firm.
Congress and the president haven't been able to agree on any substantial economic intervention during the president's second term. Other than the Federal Reserve's easy money policies, the U.S. government's major influence has been automatic spending cuts triggered by a 2011 budget agreement that most economists believe slowed growth in 2013.
The deadlock extends back to 2011, when the U.S. flirted with a debt default.
"For the last three years we've had the Fed pushing as hard as they can and the Congress pushing back as hard as they can," said Ethan Harris, a global economist at Bank of America Corp. in Charlotte, North Carolina. It has been "a big waste" of Fed easing, he said.
Hurting Most
Middle- and lower-income Americans have suffered the most. Fed easing has lifted the stock market and kept borrowing costs low, aiding investors. It's only when the recovery gains steam that the job market improves and wages start to rise.
"By delaying that second stage of the recovery, policies in Washington have also hurt working-class people," Harris said.
Economists often define middle-class households as those with annual incomes between the 20th and 80th percentiles, which in 2012 was between $20,600 and $104,000, according to the Congressional Research Service. The working class is defined as wage earners, especially those involved in manual labor.
Last year's across-the-board spending cuts and fiscal gridlock alone reduced economic growth in 2013 by 1.5 percentage points, said Beth Ann Bovino, chief U.S. economist at Standard & Poor's in New York.
"It was a real big drop," she said.
Investors Thrive
Investors have done well. Corporate profits set record highs and the benchmark Standard & Poor's 500 Stock Index has almost tripled since March 2009.
The economy's expansion is fueling global growth even as Europe and Japan languish. U.S. unemployment fell below 6 percent for the first time since before the 2008 financial crash.
Wage earners haven't shared in the prosperity. Median usual weekly earnings of full-time workers during the July through September quarter this year were lower after adjusting for inflation than in the third quarter of 2007, the last such measure before the recession, according to Labor Department data.
The picture is worse under a broader measure of middle-class living standards, median household income, which captures the impact of all changes in income. Adjusted for inflation, the July median income of $54,045 was $2,600 lower than in December 2007, the start of the recession, according to Sentier Research, an economic-consulting firm in Annapolis, Maryland.
Better Times
Better times may be ahead. The jobless rate, now at 5.9 percent, is getting closer to the level Fed policy makers consider to be full employment, between 5.2 percent and 5.5 percent. That should begin to put pressure on employers to compete for workers by bidding up wages.
More Americans also now have health coverage after the opening of insurance exchanges and expanded Medicaid eligibility in many states under Obamacare. The portion of Americans without insurance dropped to 13.4 percent in the third quarter of this year, from 18 percent a year earlier, according to Gallup polls.
Consumer confidence in October reached a seven-year high, according to the Conference Board.
The Congressional Budget Office estimates that the Obama-backed proposal to raise the federal minimum wage would directly boost pay to 16.5 million Americans who currently earn less than that amount. That's more than 1 of 9 workers currently employed.
The CBO estimated about 500,000 low-wage workers would lose their jobs if the minimum wage were increased. There would also be a cascading effect, raising the pay of other workers who earn more, it said.
A Brookings Institution analysis estimated that as many as 35 million workers would be paid more.
$2 Return
Infrastructure spending and changes to U.S. immigration policy both would have helped, Bovino said.
For every $1 spent on highways, the economy would get almost a $2 return in growth, she said. A $1.3 billion investment in infrastructure would add 29,000 construction jobs alone, and even more to other industries.
All of that amounts to mere details to an electorate feeling financially pinched and left out of the recovery.
While many incumbent Republican governors are struggling against voter ire, the fate of Democratic congressional candidates in the midterm election is turning on a simple question, Cook said.
"Are they happy with President Obama and Washington or not happy?" Cook said. "They're not happy."
Before it's here, it's on the Bloomberg Terminal.
LEARN MORE