Waiting for Jeb
Lots of excitement as a week-long trail of tea leaves tell Jeb Bush supporters he may be preparing to jump into the next presidential race.
by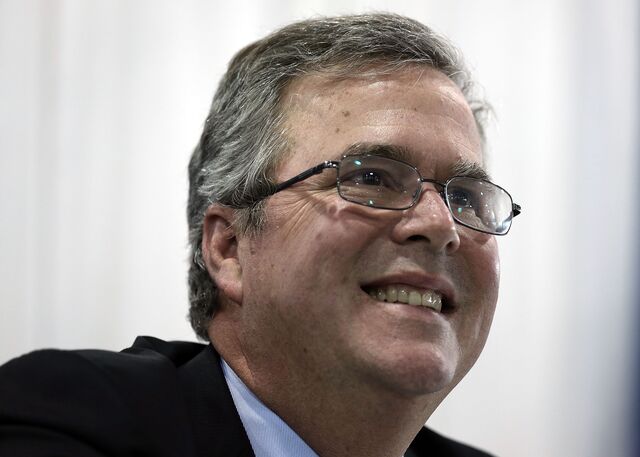 If Jeb Bush was hoping to create some buzz, mission accomplished. With a little help from an ex-president and the likely next Texas land commissioner—or as they're known in the Bush world, family—the number of news stories and Twitter postings mentioning the former Florida governor has spiked in the past week.
And the timing is fortuitous. Renewed interest in Bush comes as he campaigns for Republicans trying to win the Senate majority and to help extend the party's 16-year hold on his own state's most important political office. Success on either or both of these fronts would enhance his brand as he considers what family, friends and supporters say is an increasingly likely chance he'll run for president.
"I get the sense that he's very interested," former U.S. Senator Mel Martinez, a Florida Republican who was Orlando mayor while Bush was governor and served in the administration of former President George W. Bush, Jeb's older brother. "It's creating a lot of anticipation here, a lot of excitement."
Former Florida House Speaker Allan Bense, who has dialed back his involvement in politics since dealing with near fatal health issues last year, said he would ignore his doctors to join a Bush presidential campaign. He said suspense has been building in the conservative Florida Panhandle, where he lives, for more than a year. "I was on the brink of not making it, and that guy called me every week to check-in," Bense said of Bush. "And when he called the hospital, the switchboard would go, 'Holy smokes, it's Bush!"
The surge on Twitter and in the news started on Sunday when George P. Bush, the oldest of Jeb's three children and a Republican candidate for Texas land commissioner, told ABC's Jon Karl that it was "more than likely" his father would run. It was a change in tone from a month earlier when the son said he wouldn't endorse his father in a Republican primary. Later on Sunday came an interview with Jeb Bush Jr, Bush's youngest child, who told Peter Baker, the premier chronicler of all things W., that the Bush family is "geared up."
"Everyone I know is sitting on ready," said Mike Harrell, a Tallahassee lobbyist and longtime friend of Bush. "There is definitely a growing optimism."
Bush's political stock also may have been helped by New Jersey Governor Chris Christie's performance on Wednesday, when he berated a heckler at an event commemorating the second anniversary of Hurricane Sandy. Christie and Bush, if both decided to run, likely would compete for support among the party's traditional pro-business supporters.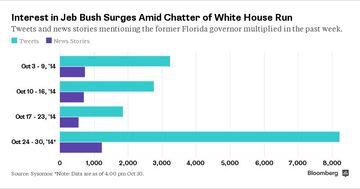 Bush tried to tamp down expectations, telling MSNBC's Kasie Hunt on Wednesday that his son, George P. Bush, "didn't talk to me." "When you have kids you'll probably have the same frustration, you love them to death and they have their own opinions. But I'll make up my mind just as I've said at the end of the year," Bush said. "Same as I've always said, there's nothing new here."
One thing that was new: a fundraising letter from Bush that Iowans received asking for donations to his nonprofit group, Excellence in Education National. The mailer was sent into all 50 states, but some recipients in Iowa told The Des Moines Register that it was the first they've heard from Bush, raising speculation that he was courting voters in a state that holds the nation's first presidential nominating contest. "It's not related to anything political he may do in the future," Bush spokeswoman Kristy Campbell said.
Brian Ballard, the chief Florida fundraiser for Mitt Romney's 2012 presidential campaign and John McCain's effort in 2008, said comments from the family have "caused a stir" in Bush's home state and put the Republican establishment there on notice for a potential campaign.
"I'm not going to do anything, nor do I think any person who knows Jeb would do anything, until he's made his mind up," said Ballard, also a lobbyist in Tallahassee. "We're all going to give him the full time to make that decision."
But while Bush's friends in Florida wait for a decision, other Republican contenders aren't willing to sit around. U.S. Senator Ted Cruz, who is weighing his own presidential bid, told CNBC on Thursday that if the party runs a moderate candidate, then "Hillary Clinton will be president."
"I like Jeb. I'm a fan of Jeb Bush's," Cruz said. "I'm going to let him decide if he's running first and let the primary voters make a decision. But I will say this. We need to learn from history. We need to look to history and what works and what doesn't.  And the one thing is clear is that if Republicans run another candidate in the mold of a Bob Dole or a John McCain or a Mitt Romney—and let me be clear: all three of those are good, honorable men; they're decent men; they're patriots—but if we run another candidate in the mold of a Bob Dole or a John McCain or a Mitt Romney, we will end up with the same result."
Bush appeared to be sharpening his own elbows, too. At a guest lecture Tuesday at Vanderbilt University he criticized President Barack Obama's handling of the Ebola crisis as "very incompetent" and panned his foreign policy as lacking clear "guiding principles." On Thursday in Colorado, where he campaigned with Republican Senate nominee Cory Gardner, Bush took a swipe at Clinton, saying her comment earlier in the week that businesses don't create jobs was "breathtaking." Clinton, who is considering a Democratic presidential campaign, said later that she "short-handed" the statement.
Bush will be back on the campaign trail this weekend, stumping for Governor Rick Scott on Sunday and then on Monday for the rest of the Republican statewide slate in Florida, where Bush was governor from 1999 to 2006. He'll be in Austin, Texas, on Election Day to watch returns come in on his son's race.
"I don't know if he would be barnstorming across the country if he wasn't seriously considering it," Martinez said. "It's not accidental."
Before it's here, it's on the Bloomberg Terminal.
LEARN MORE