Poll: Ed Gillespie Narrows Gap with Mark Warner, but Not Enough
The Republican candidate for Senate has gained some ground on Democratic Senator Mark Warner, but not enough.
by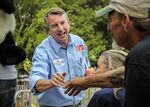 For Republican challenger Ed Gillespie, it may be a case of too little, too late. A new poll conducted by Christopher Newport University finds that Democratic Senator Mark Warner leads Gillespie 51 percent to 44 percent with just days to go before the Nov. 4 election.
The poll, which was based on interviews with 815 registered Virginia voters, shows that support for Gillespie has risen from 39 percent since Oct. 7, when the university released the results of its previous survey of the Senate race. The bad news for Gillespie is that Warner's support remained unchanged at 51 percent. 
Without the financial resources to compete with Warner, Gillespie was forced to pull television ads in the contest in mid-October. Still, the Republican maintained this week that he believed he could win. 
"This to me is the right time and the right position," Gillespie said Tuesday, National Journal reported. "I think I could be effective on Day One. The only other race I would want to run would be if I decided to run for reelection to this job after winning a week from today."
Before it's here, it's on the Bloomberg Terminal.
LEARN MORE