Obama's Halloween Features 'Devilish' Chocolate Cake
Angela Greiling Keane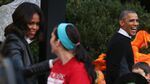 President Barack Obama didn't wait until the evening to get his Halloween treat.
Obama visited Gregg's, a Rhode Island restaurant known for its desserts, after a campaign speech today in Providence. He bought an entire chocolate layer cake -- not, he said, to eat the whole thing himself.
"The word is that the chocolate-layer cake here is deadly and it's devilish, and so for Halloween, this is the kind of sin that we want to commit," Obama told the staff at the restaurant's counter.
Obama worked the crowd at the restaurant with Democratic gubernatorial candidate Gina Raimondo. They stopped by the tables and booths around the diner-style eatery.
When the president stopped to talk with a nine-year-old boy, he asked the child what he was going to be for Halloween and reminisced about when his daughters Malia, 16, and Sasha, 13, were small.
"They always wanted to be princesses," Obama said. "Even when they were witches, they were witch princesses. And I was like you -- know what, you've got to be scary. Maybe some blood."
The first couple plans to spend this evening handing out goodies to more than 4,500 trick-or-treaters at the White House. The Obamas' dogs, Bo and Sunny, will be dressed as circus clowns, according to the White House.
In previous years, the children -- from military and local families -- were given cookies or dried fruit. This year, trick-or-treaters will receive apples, cookies and an assortment of candy.
"A good thing about being president is you never run out of presidential M&Ms," Obama said today.
As for that chocolate cake? The chain of custody isn't confirmed, but passengers on Air Force One enjoyed slices on the way back to Washington from Providence.
Before it's here, it's on the Bloomberg Terminal.
LEARN MORE