Obama Looks to Boost Women's Vote in Rhode Island Speech
Angela Greiling Keane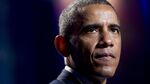 Trying to capitalize on yesterday's news that the U.S. economy expanded more than forecast in the third quarter, President Barack Obama reached out to female voters in Providence, Rhode Island, four days ahead of the U.S. midterm elections.
"The idea that my daughters wouldn't have the same opportunities as somebody's sons? Well, that's unacceptable," Obama said today at Rhode Island College. "I say this to the men here: We all have a stake in choosing policies that help women succeed."
Obama spoke about women and the economy at the rally after holding a roundtable discussion on the topic with a smaller group at the college.
Obama's approval rating among women now is about even with that of men, according to the Gallup tracking poll. He's trying to revive his popularity among women -- when he was re-elected in 2012, 55 percent of female voters backed him compared with 45 percent of male voters, according to network exit polls.
"Treating women fairly, that shouldn't be complicated," Obama said yesterday in Portland, Maine, while campaigning for Democratic gubernatorial candidate Michael Michaud. "When women succeed, America succeeds."
Women's Wages
To underscore Obama's message today, the White House released a collection of government statistics showing that while women are increasingly in the breadwinner role, their pay in comparable jobs is still less than that of men. Women get about 78 cents in a full-time, full-year job compared to the dollar that men make, the White House says.
During his appearances on the campaign trail across the country this week, Obama is trying to motivate the different parts of the Democratic base to turn out to the polls in close races. In addition to talking to women, Obama has focused this month on black and young voters.
In Rhode Island, he plugged raising the minimum wage, paid parental leave and equal pay for women, all issues that play well with Democratic female voters.
First Lady
First lady Michelle Obama yesterday stumped in Rhode Island on behalf of Democratic candidate for governor Gina Raimondo. She's running against Republican candidate Allan Fung. The website Real Clear Politics, in an average of three polls, says Raimondo has a four-point advantage.
By spending the night in Providence, Obama became the first U.S. president since John F. Kennedy to overnight in Rhode Island.
The president's economic message got a boost from Commerce Department data released yesterday that showed U.S. gross domestic product grew at a 3.5 percent annualized rate in the three months ended September after a 4.6 percent gain in the second quarter. It marked the strongest back-to-back readings since the last six months of 2003.
After campaigning today, Obama returns to the White House in time to greet Halloween trick-or-treaters from local Washington schools and military families. Obama discussed Halloween costumes with the roundtable participants at Rhode Island College. They included heads of small businesses, the university president and an immigrant student.
Before it's here, it's on the Bloomberg Terminal.
LEARN MORE