New Hampshire's Final Senate Debate: 4 Takeaways
Jeanne Shaheen had her best debate against Scott Brown, who slipped just once.
by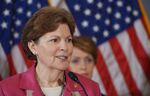 MANCHESTER, N.H. — The last major debate of the 2014 midterms had the real potential to alter a race. Democratic Senator Jeanne Shaheen, whose lead over Republican Scott Brown had steadily diminished since this summer, looked to have stabilized her numbers. Brown, one of the most media-savvy candidates for any office in America, had done well enough to keep national Republicans spending money on the race in case a wave hit in the last week. Two previous televised debates had gone rather poorly for Shaheen; the first, with a studio audience, produced a clip of voters laughing at the senator, and that's still being repurposed for negative ads.
But Shaheen found her sea legs at the New Hampshire Institute of Politics. She got some of the same questions that had been lobbed her way at CNN's terror, Ebola-focused debate (which was, ironically, little-seen in the state thanks to breaking Ebola news). She had her best answers to Brown's attacks on her low NFIB and Chamber of Commerce ratings, and her almost-perfect rating of votes in alignment with President Obama. 
Here are four highlights:
1. I Am Not An Occupier, I Am a Human Being 
Brown attempted to stoke outrage over how Shaheen referred to the possibility of using ground troops in Iraq. It started harmlessly enough, with Shaheen repeatedly hitting Brown for being willing to re-occupy Iraq.
"What we should not do is take tens of thousands of troops and send them back to Iraq as an occupying force," said Shaheen. "I don't think we should have tens of thousands of troops in Iraq for 60 years, as we have in Korea."
Brown summoned a kind of outrage. "With respect to Sen. Shaheen," said Brown. "We are a liberating force. We are not occupiers. I, and every other person in the military, resents that you are calling us occupiers."
Shaheen, who has a habit of starting answers with an awkward um, did so then slapped away the bait. "What you have suggested and what others have suggested is that we should go back into Iraq," she said.
Brown obviously wanted this answer to stick; plenty of ads on New Hampshire radio and TV play up his National Guard service. In a short scrum with reporters, after the debate, Brown led off by defending troops from the "occupiers" label. An NPR reporter repeatedly pressed Brown to say whether "the Iraqi people" considered Americans occupiers.
"You'd have to ask the Iraqi people," said Brown.
2. I Feel Everyone's Pain
Brown has failed to personally win over New Hampshire voters the way he did in Massachusetts in 2010. In polls this time around, he's consistently been viewed less favorably than three-time governor Shaheen. But he remains innately talented at connecting to an audience; Shaheen, less so. She gave a bureaucratic, gaffe-free response to a question about the Obama administration's efforts to stop a ransom being paid for James Foley, while Brown turned the question into a movie-of-the-week script.
"Imagine if that happened to your child," he said. "I would have done anything and everything to get a child home." He pivoted to a larger, passionate argument about a government "chipping away at our rights and freedoms."
It was such an unexpected pitch that it was hard to determine whether it connected. But that was the rhythm, with Shaheen attempting to defend the major impacts of policies and Brown making them personal. Brown parried an attack on his opportune move to New Hampshire from Massachusetts, explaining it as motivated by "my wife and my personal family choices." An attack on his votes against equal pay bills ignored that he paid women on his staff $1.25 for every dollar a man made. (This sort of argument has been made by Republicans all year, a little fun with averages to blunt a policy debate.)
3. Burned by the Fringe
Earlier today, an irritating Bloomberg Politics reporter wrote about a radio interview Brown gave in which he warned "polio and whooping cough" were crossing the border. Shaheen mocked him for that—polio has not existed in the western hemisphere since the 1990s—and Brown explained that he was talking about a similar disease, but not polio. Later, when gun rights came up, Brown accused her of supporting "a letter to the UN signing away our rights."
"He talks about UN legislation," Shaheen replied dismissively. "That's a bogus issue." It mostly is— the Small Arms Treaty is an occasionally hot topic in the conservative press, but a less than real threat to the guns owned by American citizens.
Shaheen benefits in two ways when Brown is discussing red-meat conservative issues. One: She can point out the small evolutions Brown went through when he moved from heavily liberal Massachusetts to swingy New Hampshire. Two: She can remind conservative voters, who have largely but not entirely consolidated behind Brown, that he's backed anti-gun bills, which they hate and been moderate on abortion, where they see no room for moderation.
4. Where is Sullivan County?
The closest thing to a classic gaffe—i.e., an error about some ridiculous and not materially important matter—came when WMUR reporter James Pindell asked Brown about the economy in the western part of the state, like Sullivan County. Brown condemned the Obamacare as the reason some ski resorts closed early during the last tourist season.
"We're talking about Sullivan County," said Pindell. "I think you're talking about the north country."
"I'm talking about any place past Concord," said Brown, who continued to talk about the resorts.
"Sullivan County is west of Concord," said Pindell. "It's not north of Concord."
It sounded like exactly the ephemera that a recent New Hampshire arrival would miss, and a governor like Shaheen never would. After the debate, Brown denied making a true error.
"It's north," he said. "It's north west. I guess I should have been a little more specific."
Before it's here, it's on the Bloomberg Terminal.
LEARN MORE