How Well Did Scott Brown Prove He Knows New Hampshire?
The former Massachusetts senator had his ties to the Granite State tested during the state's final debate.
by and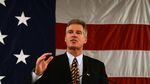 As we learned from Thursday's final New Hampshire Senate debate, Republican Scott Brown can probably locate the state's Sullivan County on a map. The question now is whether he's convinced voters throughout the state that he understands what issues matter in the state.
During Thursday's final debate, Brown was asked by WMUR-TV's James Pindell what he saw going right and wrong in Sullivan County, located in the western part of the county. He responded that "infrastructure and other opportunities up north are difficult," that "one of the biggest opportunities is our ski areas and trails for snowmobiles," and "the biggest wet blanket on the economy in that area is Obamacare."
"We're talking about Sullivan County and I think you're talking about the North Country," Pindell interrupted, likely because, in New Hampshire, "up north" refers to the economically impoverished northern part of the state, where tourism is a big part of the economy. As the Associated Press noted, "the vast majority of ski areas are in northern New Hampshire."
"I'm talking about any place past Concord, actually, and the challenges of our state," Brown said. Pindell countered that Sullivan is actually west of Concord.  
Technically, as the map above shows, Sullivan County is northwest of Concord, N.H. For that reason Pindell apologized:
On Friday, both candidates visited Sullivan County—Shaheen to encourage people to vote and Brown to focus on the "failed economic policies of the Obama-Shaheen agenda," according to his campaign.
This isn't the first time a newcomer has had to prove his knowledge of the state. 
In 1992, Democrat John Rauh couldn't answer a debate question about the location of Chester, N.H.  "He looked into the camera, his numbers dropped, and [Republican] Judd Gregg became senator," said Neil Levesque, the executive director of the New Hampshire Institute of Politics & Political Library at St. Anselm College. 
While Thursday's debate isn't really comparable, Levesque said, there's been a lot of discussion of the Rauh blunder in the last day. "I believe Scott Brown knows exactly where Sullivan County is," Levesque said. The problem, he added, was that Brown stuck to the script and left it open for people to wonder. 
Republicans hope the matter is settled once and for all. "A fraction of the debate viewers who witnessed this brutal exchange will have seen Pindell's subsequent apology, and Shaheen's operatives are quietly contemplating the ethics of running with the clip if only to accentuate the theme that Brown is, at heart, a Massachusetts man," wrote Noah Rothman at the conservative blog Hot Air.
Others have argued that there's Brown's response lacked nuance. First, as the AP noted, ski area tourism is mainly an issue in the northern part of the country. Second, after the debate, Brown said that he'd visited Sullivan County's Mount Sunapee two weeks ago. The thing is, part of Mount Sunapee—including the ski area—is in Merrimack County.
The Shaheen campaign shared a statement from Claremont Mayor James Neilsen, whose city is in Sullivan County: 
"This goes far beyond an awkward moment in a debate. It's about the next six years, and whether people in Sullivan and every other corner of this state will have a senator who knows and cares about their lives and their communities. 

Tonight Scott Brown proved that not only can he not find us on a map but also that he doesn't care about us at all. Scott Brown is wrong for New Hampshire, Scott Brown is for Scott Brown."
On the other hand, Levesque noted that Brown might pick up some sympathetic support, if people believe that the "'liberal media' is after Scott Brown." And while everything in an election matters, this wasn't a repeat of 1992. "The debate has run just like the rest of the campaign–neck and neck, with very little mistakes," he added.
Before it's here, it's on the Bloomberg Terminal.
LEARN MORE