That Time Mary Landrieu Was Rejected by a Bible Study Group
The race in Louisiana may determinate control of the U.S. Senate. Let's hope it doesn't turn on the last question in the final debate.
by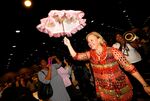 Democratic Senator Mary Landrieu had a smile stretched tight across her face almost every time she looked over to Bill Cassidy, her top Republican opponent, in Louisiana's final U.S. Senate debate. Not a happy smile, exactly. It was the kind of look that recalled the old Bob Dylan lyric about how they'd put his head in a guillotine if his thought-dreams could be seen.
It may have been the same look Landrieu had when, as a student at Louisiana State University, she was rejected from a Christian Bible study group.
That story emerged at the end of Wednesday night's event, when the trio of candidates was asked to describe a challenge they had to overcome in their lives. The question wasn't aimed at voters who will base their decision on issues, but it did offer a good snapshot of the race, and a summary of the candidates' debate performance to that point.
Landrieu, who polls show is treading water in her bid for a fourth six-year term, said her biggest personal obstacle was the time four decades ago when she was told she couldn't help spread the gospel. "I wanted to be, strongly wanted to be, in the Christian advocacy world and was very active with Campus Crusade for Christ, and went to a Bible study and submitted my application and was rejected," Landrieu said, standing at a podium inside an LSU campus building. "It was a very hard rejection, but [I] went on to do, hopefully, other good things in the service of God and our community."
We don't doubt Landrieu's sincerity, but we will point out that evangelical Christians may have been the last major voting bloc in Louisiana left for the polished politician to appeal to during the debate.
She had promised energy workers that the Senate will vote on whether to permit the Keystone XL pipeline. For social conservatives, she fuzzed earlier support for gay marriage by saying she supported the state's ban. She got a two-fer in Social Security, vowing to seniors that she would never vote to increase the age to receive benefits while specifically telling black voters in Madison Parish that Cassidy's plan for the safety-net program would mean less cash in their pockets.
Cassidy's answer illustrated the challenges that will face him in an expected Dec. 6 runoff with Landrieu. While Landrieu was hitting her targets, Cassidy spent the hour blinking his way through answers and repeatedly directing viewers to his campaign website for more information.
"Struggling, we had moved five times in 10 years trying to gain traction," Cassidy said about his greatest obstacle in life, going with a story about a tough childhood—a proven winner—before eventually talking himself out of it.
"And although we struggled when I was a child, my family and we overcame ... nah, I don't even think we overcame. In the sense that it wasn't, as you describe, an obstacle, it was just life," said Cassidy, a gastroenterologist and six-year veteran of the U.S. House.
Finally, there was Republican Rob Maness, who may drain just enough of the far right vote from Cassidy to ensure a runoff. He pulled a tiny copy of the U.S. Constitution from his pocket, claimed Ronald Reagan as an honorary member of the Tea Party, and said his immigration plan would be to "repatriate" the 12 million undocumented workers in the United States.
His answer to life's biggest struggle: "Those times when I've had to give answers to my children or my wife that were the wrong answers at the time and I came up short and it hurt them, or those kinds of things," Maness said. "But we've always learned to trust God and overcome those challenges and continue to build our family stronger."
Before it's here, it's on the Bloomberg Terminal.
LEARN MORE