Republicans Seek to Expand Dominance in States
Mark Niquette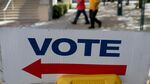 Republicans, who hold a majority of U.S. governor's offices and legislatures, see a path to expand their dominance to unprecedented levels in elections next week.
The party that now controls 59 of the 99 U.S. legislative chambers has set a goal of attaining 66 of them, according to the Republican Legislative Campaign Committee, which it said would be a modern-day record. Democrats are focusing on holding the power they have in a midterm election that almost never favors the party in the White House.
After Republicans took 21 new legislative chambers in the 2010 election, states cut taxes, restricted abortion and limited collective bargaining for public employees. State-level policy making is increasingly important with Congress and President Barack Obama deadlocked, said Tim Storey, an analyst at the National Conference of State Legislatures in Denver.
"You can't understate the impact of these elections on people's lives and public policy, especially at a time when Washington is almost certainly going to remain gridlocked," Storey said.
Twenty-two of the 29 governorships held by Republicans are contested this year, among 36 states choosing chief executives, according to the National Governors Association. Nineteen Republicans and nine Democrats are seeking re-election, with open seats in eight states.
Choosing Objectives
Predicting the national outcome is difficult because 11 gubernatorial races are rated toss-ups by the nonpartisan Cook Political Report in Washington.
In legislatures, Republicans control both chambers in 27 states -- three shy of the party's record of 30 after the 1920 election, Storey said. The party also claims control of Nebraska's unicameral, nonpartisan body, thanks to an edge in state voter registrations. About 15 chambers in 14 states could see a change of control in either direction, Storey said.
Prime Republican targets include the Iowa Senate, Kentucky House and New Hampshire House, which could provide dominance if they also retain the other chambers in those states, according to the Republican Legislative Campaign Committee in Washington.
If the Democrats weren't able to make more substantial advances in 2012, when Obama won re-election, "they're pretty much in fantasyland thinking that they're going to be able to make gains this year," said Jill Bader, a spokeswoman for the group.
Limited Upside
Democrats pointed to five chambers where they think they can take control from Republicans, including the Wisconsin Senate. Their priority is keeping senate majorities in Iowa, Nevada and Colorado and the houses of representatives in Minnesota, New Mexico, Kentucky and West Virginia, said Kurt Fritts, national political director of the Democratic Legislative Campaign Committee in Washington.
"If we're able to hold most or all of those, then it will be a very successful night," Fritts said.
One challenge for Republicans is that after making such sweeping gains in 2010 and then mostly holding them two years ago, opportunities for advances are limited, Storey said.
"The Republicans are sort of a victim of their success," he said.
Storey said he also expects there will be fewer states controlled by one party even if Republicans make legislative gains because of the large number of close governor's races.
Rocky Battle
Colorado shows the intensity of the state-by-state battles. Both parties are focusing resources there, and gun-control measures enacted by Democrats are playing a major role.
Democratic Governor John Hickenlooper is locked in a close race with Republican challenger Bob Beauprez as his party tries to regain control of both legislative chambers by promising to reverse mandatory background checks for gun purchases and a ban on ammunition magazines with more than 15 rounds.
"We've made inroads in what may traditionally be perceived as Democratic strongholds," said Ryan Call, chairman of the Colorado Republican Party.
Democrats hold a one-seat majority in the Colorado Senate, and there are competitive races in six districts -- including two where Democrats were recalled in September 2013 after they supported the toughest gun laws in almost a decade. All 65 seats are up for grabs in the House, where Democrats hold a six-seat edge.
Theater Slaughter
Senator Jeanne Nicholson, a Democrat in a tight re-election contest with Tim Neville, a Republican small-business owner, is getting help from Moms Demand Action for Gun Sense in America. The group is circulating mailers featuring relatives of children killed in the Aurora theater massacre in 2012 and talking to voters.
Moms Demand Action is one of several groups included under the umbrella of Everytown for Gun Safety, founded by former New York City Mayor Michael Bloomberg. He is founder and majority owner of Bloomberg LP, parent of Bloomberg News.
Republican gains in 2010 brought anti-abortion groups unprecedented success, with states passing more than 200 restrictions since then, more than the entire previous decade.
They're looking to continue that streak in states including Tennessee, Iowa and Kentucky, where such legislation has been hamstrung, said Dan McConchie, vice president of government affairs at Americans United for Life, a Washington-based nonprofit that writes legislative templates for lawmakers.
Wish List
The group will continue to push state laws that mandate clinics undergo renovations, require hospital admitting privileges for doctors and restrict how abortion drugs are disbursed, McConchie said.
Abortion-rights groups such as Planned Parenthood Action Fund say that the elections present opportunities to undo restrictions enacted in recent years if Republican governors lose.
"We're making our largest-ever investment in gubernatorial races in Florida, Pennsylvania, Texas, Wisconsin, and Maine," Dawn Laguens, executive vice president of the Planned Parenthood Action Fund, said in an e-mail.
States could also weaken consumer-protection laws and make it easier for groups such as payday lenders to operate, said Michael Barr, a former U.S. Treasury Department official who teaches law at the University of Michigan.
Sagging Turnout
In states where Democrats remain in control, they can be expected to pursue issues such as raising the minimum wage and creating a more welcoming immigration policy, said Storey of the NCSL.
Nationwide, history favors Republicans. Democratic turnout in midterm elections typically is lower than in years with presidential races, and the party in the White House has lost an average of 400 seats in 26 of the 28 midterm elections since 1900, Storey said.
In 2010, Democrats lost more than 700 seats, Storey said. Republican gains allowed them to control the decennial process of redrawing district boundaries to their advantage for future state and federal elections.
"If history is any guide, we're going to see Republicans pad their gains," Storey said.
Before it's here, it's on the Bloomberg Terminal.
LEARN MORE