Lindsey Graham's 'White Men' Joke Breaks Loose
The South Carolina senator's jokes about white men and Baptists are revealed.
by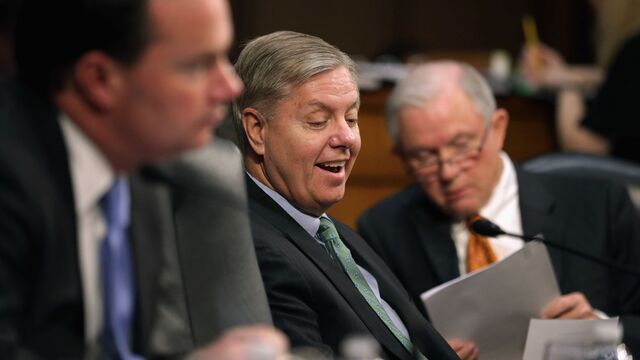 South Carolina Senator Lindsey Graham recently joked about how "white men who are in male-only clubs" would thrive with him as the president, according to a tape unearthed by Democrats and sent to CNN.
The network reports that the recording was taken earlier this month at a gathering of the Hibernian Society of Charleston. In it, the Republican lawmaker works the room like a stand-up comic. In addition to saying the comment about white men, he also asks if there are any Presbyterians in the room. Moving on to Baptists, he says, "They're the ones that drink and don't admit it."
He asks about Methodists as the snippet of sound ends. 
Earlier in the recording, he also says, "I'm sorry the government is so f---ed up." 
Graham told CNN the organization likes speakers "to be earthy, to make fun of yourself, to make fun of them. Then you say something serious and sit down. And if you talk over 20 minutes, they throw something at you."
He said he was making fun of the club's all-male roster.  
The joke was told in a private setting, but, like Mitt Romney's "47 percent" comment in 2012, the iPhone age allowed it to take wing. Two South Carolina Democrats sent it to CNN, saying that it had been sent to them from an anonymous Gmail address. 
Also on Bloomberg: Democrats See South as No Country for White Men in Senate
Before it's here, it's on the Bloomberg Terminal.
LEARN MORE