Marco Rubio Blames President Obama for World 'Chaos'
The Florida Republican Senator pinned the blame on what ails the world on the current occupant of the White House.
by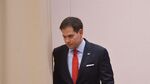 Speaking in a state where he may soon be campaigning for the 2016 Republican presidential nomination, Senator Marco Rubio argued the world is in "chaos" because of President Barack Obama's failed leadership.
"When America doesn't lead, what's left behind is a vacuum, and the vacuum leads to chaos," Rubio said in a keynote speech to more than 600 Republicans gathered Tuesday evening in Bettendorf, Iowa. "We're seeing it play out on every region of this planet."
Rubio placed the blame for the threats posed by the Islamic State and other terrorist groups directly on Obama.
"This is the world Barack Obama has led to, a world where American leadership is not trusted or respected by our adversaries, or trust by our allies and the result is the chaos we see around us," he said.
Rubio argued American leadership is irreplaceable around the globe, a message that almost always resonates with Republicans.
"The world is a better, a safer, a more prosperous place when the United States of America is the strongest nation on the planet," he said.
"I'm not saying that America needs to involved in every conflict," he said. "When American fails to lead, there is nothing to replace it. It's not the United Nations, trust me. You don't want it to be China or Russia. The European Union doesn't want the responsibility. There is nothing in the world to replace our ability to lead globally."
The potential presidential candidate made no direct mention of his potential 2016 bid, other than making a few jokes about Iowa, including that his children had warned him that "they put bacon on everything" served in the state.
Rubio has been making the rounds in early-primary states, as are other potential 2016 candidates. In Rubio's case, he's also been forced to confront the distrust he stirred among some Republicans by co-sponsoring an immigration bill that included a path to citizenship,
Before his speech, Rubio spent the entire day campaigning with Joni Ernst, Iowa's Republican nominee for Senate. He was the only big-name potential 2016 Republican candidate to endorse her before her primary win, an early bet that could pay dividends if she wins.
Before it's here, it's on the Bloomberg Terminal.
LEARN MORE