Ernst Has Four-Point Lead in Latest Quinnipiac Poll of Iowa Senate Race
Just 5 percent of likely voters remain undecided in a race that will help determine control of the Senate.
by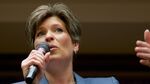 Iowa's Senate race remains tight as the campaign heads into its final days, with Republican Joni Ernst at 49 percent and Democrat Bruce Braley at 45 percent, a Quinnipiac University poll released Wednesday shows.
Just 5 percent of likely voters remain undecided in a race that will help determine control of the Senate. The results show a slightly larger lead for Ernst than in a poll the university released Oct. 23, although it's still just outside the survey's 3.4 percentage point margin of error.
The university's latest survey shows independent voters, the state's largest voting bloc, backing Ernst over Braley, 50 percent to 41 percent. 
Ernst, a state senator, and Braley, a member of the U.S. House, are competing in one of the most closely watched Senate races this year. Millions of dollars from the national parties and outside groups are pouring into the state for television advertising and some of the nation's biggest political names have been showing up in recent weeks to try to boost their side. Former Secretary of State Hillary Clinton, a potential 2016 presidential candidate, will make two campaign appearances Wednesday with Braley.
"Joni Ernst is closing in on Iowa's open U.S. Senate seat," Peter A. Brown, assistant director of the Quinnipiac Poll, said in a statement. "Nothing is for sure, but one would certainly rather be in her shoes this morning than Braley's."
One piece of good news for Braley is that he has a 21-point advantage in the poll among those who already have voted.
"Ernst's lead is built upon a 9-point lead among independent voters and a larger lead among men than Braley is able to muster among women," Brown said. "In what was a strongly negative campaign, she emerged from the mud-slinging with voters liking her a bit more, usually an advantage that tends to translate into votes."
The reverse gender gap that's been exhibited throughout the race continues as women back the Democratic man 50 percent to 42 percent, while men back the Republican woman 56 percent to 39 percent.
Before it's here, it's on the Bloomberg Terminal.
LEARN MORE