Charlie Baker Cries in Debate When Asked to Name Last Time He Cried
Massachusetts gets emotional.
Annie Linskey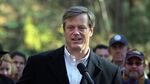 Move over, John Boehner. The latest Republican to shed tears in public is Charlie Baker and he might just be the next governor of Massachusetts.
Baker, who according to polls is in a virtual tie with Democrat Martha Coakley, was on stage with her Tuesday for the campaign's final debate when this question came up: When was the last time you cried? 
Baker choked up right there as he recounted meeting a New Bedford fisherman while campaigning. The man explained how he'd come to regret standing in the way of his two sons' college education.
"You're going to be fishermen," the man told his sons, in Baker's retelling. Baker continued quoting the man: "I was a fisherman. My brothers were fishermen. My father was a fisherman. You're going to be fishermen. And I ruined their lives." (You can watch it here.)
Baker paused a few times as he told the story, putting his hand over his face. "You hear those kinds of stories every day," Baker said, collecting himself. "And it's a big part of why people like you and me, I believe, get into public service," he said, gesturing to Coakley. "Because we want to help people like that."
Baker lost to Governor Deval Patrick four years ago. He was criticized for failing to show his human side. Lesson learned. 
Before it's here, it's on the Bloomberg Terminal.
LEARN MORE