Black Voters Come Out for Obama in Close Wisconsin Race
The president stumps in a city he won twice to boost one of the year's best Democratic hopes.
by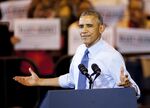 MILWAUKEE — "The president was the only one who could get me out here," said Gloria Malone, a 50-year old home health care worker. "Before that, I was like: The hell with Mary Burke!"
Malone was pressed against more than 3300 people who'd come to Milwaukee's North Division High School to see Barack Obama make one of his few 2014 campaign trail stops. Like most of the crowd, she was African-American, and had backed the president every time he appeared on the ballot. She was well aware that less-unpopular surrogates, like First Lady Michelle Obama, had trekked to the state even though gubernatorial candidate Burke has avoided nationalizing her race.
Then the presidential visit was announced, and Malone cast an early vote for Burke against Republican Governor Scott Walker, who Burke has fought to a tie in the polls.
"It's important to see her up there with our president," said Malone. "We're running Walker down. The Republicans lost this election when they tried to stop black people from voting."
Democrats are increasingly bullish on their chances of defeating Walker, and well aware that they need Milwaukee votes to do it. The president had always won landslides in the Democratic city, and North Division High School is located in a ward that delivered 99 percent of the vote to him in 2012. African-Americans made up only 4 percent of Wisconsin's electorate in 2010, when Walker first won. That number rose to 7 percent when Barack Obama defeated Mitt Romney. An electorate that looks more like 2012's is far more likely to replace Walker with Burke.
The president spoke after Milwaukee's political elite portrayed Walker as a threat to the state who'd tried to disenfranchise the city. Walker had signed a voting reform that required ID at the polls and ended early voting on Sunday, which had been a major boon to black turnout. A court had struck the ID requirement, but kept the weekend cutbacks.
"Our governor wanted to make it harder for people to vote," said Milwaukee Mayor Tom Barrett, Walker's opponent in 2010 and in the unsuccessful 2012 recall election. "What's more American than going to church and then going to the polls?"
Burke took the stage shortly after 6:45 to introduce "our next speaker" and contrast the country's jobs growth with Wisconsin's—a theme she's worked relentlessly over a yearlong campaign.
"The typical Wisconsin family, their income dropped by nearly $3000 in four years," said Burke. "In Wisconsin, we're dead last in jobs growth in the Midwest under Governor Walker. That's a jobs problem."
Burke's last-in-the-Midwest theme had been true until the last month, when fresh numbers found Wisconsin springing from tenth out of ten states in the region to a less pathetic fourth. In his newest TV ads, Walker has attempted to drill in the new numbers. Neither Burke or Obama spent much time editing their remarks, however.
"Wisconsin lags the rest of the country when it comes to job growth," said Obama. "I don't know why you'd run on a platform of making sure some folks don't have health insurance."
That was a reference to Walker's refusal of Medicaid expansion money, a source of real ire in the crowd. So was Walker's criticism of a state minimum wage hike, an issue Burke had grabbed onto to and a local activist group had sued over. Obama shamed Walker over a dismissive quote he'd given about the possible raise.
"Mary Burke doesn't believe that the minimum wage 'serves no purpose,'" he said. 
"It don't make no sense!" yelled a voice in the crowd.
"It don't make no sense," Obama repeated.
Obama reminded voters that the ID requirement had been suspended, and joked at the expense of the city that first elected him to office.
"You can only vote once," Obama joked. "This isn't Chicago."
As the president wrapped, a small number of voters in special seating started to find the exits. Obama and Burke briefly worked the crowd, but Burke stayed even later, as a neighborhood singer named Erick Perkins serenaded her and a few dozen students asked for selfies.
Before it's here, it's on the Bloomberg Terminal.
LEARN MORE