Women Leaning Democrat? Not So Much in These Midterms
As polls show Democrats' edge with women to be smaller than expected, Republicans are scrambling to exploit the trend.
by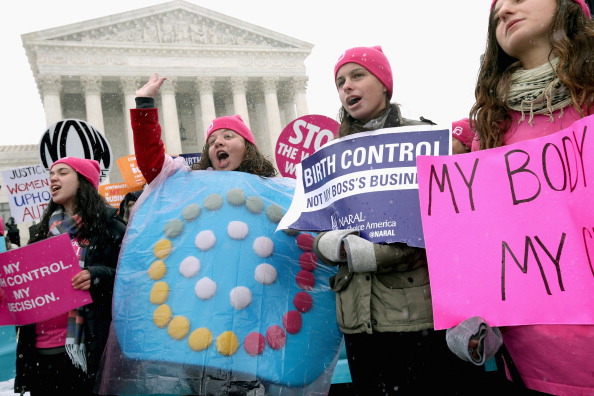 Democrats for months have been bludgeoning their Republican rivals with charges of a  "war on women," an expression typically used to paint them as sexist for stances against contraception coverage, abortion rights or gender workplace laws. But things have gotten all mixed up this week as polls show two trends coinciding: Democrats' edge over Republicans with women nationally is much narrower than many expected, and Senator Mark Begich, Alaska's Democratic incumbent who seemed to be gaining momentum in a tight race, is now the subject of similar smears.
A poor choice of words by Begich gave Republicans a window last week to pounce, and it only made sense for them to try to undercut his support among women in the campaign's final days. (Look for versions of this play in other states with tight races. In the Florida governor's race, Republicans jumped on campaign finance records showing Democratic candidate Charlie Crist had accepted campaign money from companies affiliated with strip clubs.)
In Alaska, the drama began in August, when Begich went up on the air with ads that show him alongside incumbent Republican Senator Lisa Murkowski in a way that Murkowski said implies she supports him when in fact she backs his Republican challenger, Dan Sullivan.
Murkowski demanded Begich take down the ad; he declined. Asked at a debate last week why he wouldn't honor Murkowski's wish, Begich tried to laugh it off by suggesting Murkowski simply didn't like the way she looked in the photo--which prompted her to cry foul. Losing her incumbent bid for the party nomination to a Tea-Party candidate in 2010 only to climb her way back as a write-in candidate, Murkowski is well known for her iron will. She called Begich's comments "belittling." Then she took it a step further, saying in parlance often associated with advocates for sexual assault victims that Begich needed to understand that "no means no."
Republican campaign committees have since joined the chorus. "Interesting tactic from someone who has used the war on women religiously," Kirsten Kukowski, press secretary for the Republican National Committee, wrote in an email to reporters. Begich's campaign didn't respond to an email.
The accusations are flying as an ABC News-Washington Post poll finds Democrats in congressional races have just a 5-point lead over Republicans among women likely voters, while Republicans have a 17-point lead over Democrats among likely voters who are men.
Before it's here, it's on the Bloomberg Terminal.
LEARN MORE