GOP's Closing Argument: Obama! Obama! Obama!
The end is near: Republican group launches its final Obama-centric campaign ads of 2014.
by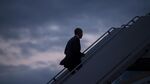 With Americans across the country likely able to recite campaign attack ad ads by heart, it's mercifully time for the final batch of the 2014 campaign cycle to roll out. There's no surprise about Republicans' main target: President Barack Obama. The National Republican Congressional Committee released  its final ads today and all but three focus on the ties between House Democratic candidates and the unpopular president.
Interesting note on the 11 ads: Nine attack incumbent Democrats. Only one defends an incumbent Republican. The final ad in the group targets a Democrat running for an open seat. That signals a pretty good environment for GOP House candidates in the final days of each race, something the generic ballot in Tuesday's Washington Post-ABC News poll seems to underscore. 
Most of the ads are pretty overt in their effort to tie the candidates to the sitting president, but perhaps none more so than this spot, aptly titled "Obama":


Before it's here, it's on the Bloomberg Terminal.
LEARN MORE