Ebola Spikes in Campaign Ads Ahead of Midterms
Last week saw a spike in TV campaign ads that feature the word "Ebola" or show images of masked healthcare workers.
by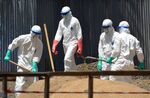 Ebola is not spreading aggressively throughout the U.S, but campaign ads using the disease to scare voters certainly are.
Last week marked a spike in TV ad buys in Senate and House races featuring either the word "Ebola" or images of emergency workers in protective suits and masks, according to data from Kantar Media's CMAG, a tracking firm.
The uptick coincided with polling showing worsening prospects for Democrats in some of the same states where the ads are running, including Georgia.
Starting Oct. 21, ads went on the air in states where five of the six most competitive Senate races are unfolding, as well as in four with closely watched House races. The new buys were in North Carolina, Georgia, Colorado, Arkansas and Iowa—all states with too-close-to-call Senate races—as well as in Michigan, where the open seat now held by a Democrat is expected to remain safe for Democrats. Ads also were running in House races in Florida, Iowa, Michigan, and Pennsylvania.
All told, ads invoking Ebola ran 734 times between Oct. 21-25, compared with a total of 484 tracked by CMAG in months prior. 
Some of the TV spots used the word "Ebola," while others played foreboding music paired with flashing pictures of public health workers in that unmistakable virus barrier gear called PPE. The ads mostly were sponsored by Republican candidates or outside groups supporting Republicans and opposing Democrats, though one in the Pennsylvania House District 12 race attacks Republican incumbent Keith Rothfus, pointing out that while claims to want to protect the U.S. from Ebola, Rothfus also proposed Centers for Disease Control cuts.
Another ad, "Back Nine," running in Iowa, Colorado, and Arkansas, juxtaposes photos of global crises, including photos of Ebola health workers, with shots of Obama and golf balls, suggesting the president was too busy working on his swing to focus on more important matters.
In an ad airing in North Carolina and Michigan, a photo of Obama and his new "Ebola czar," Ron Klain, is followed disparagingly by an old shot of President Jimmy Carter and Vice President Walter Mondale.
Democrats actually started the Ebola ad trend. Arksanas Senator Mark Pryor, in jeopardy of losing his re-election fight, went on the air in late August with an ad featuring news clips about Ebola that talked about how his opponent, Republican Representative Tom Cotton, voted to cut billions of dollars from proposed emergency and disaster spending. Last week, an ad critical of Democrats' record on issues including Ebola went on the air in Arkansas, aimed at boosting Cotton and hurting Pryor.
Georgia Senate candidate Michelle Nunn, in an ad that began airing Oct. 7, tried to preemptively distance herself from Obama on Ebola. She spoke on camera, saying, "Foolishly, Congress and President Obama continue to cut our military budgets" at a time when the Islamic State and Russia are posing threats and the Ebola virus is being fought by medical personnel and the U.S. military. 
An ad titled "Defer" tying Nunn to Obama went up Oct.23 and aired 193 times over the next two days. The ad criticized the state of veterans' care and Obamacare and says Nunn "initially refused a travel ban to stop Ebola." Nunn, the ad said, would be Obama's senator, not Georgia's.
In Florida's House District 2, where Republican incumbent Steve Southerland is facing a tougher general election than he expected, his campaign went on the air last week with an ad featuring Ebola along with illegal immigration and Islamic jihad. "The first obligation of government is to keep us safe, but look around: Open borders, threats of terrorism, Ebola," the ad goes on. "This election is about our safety—our future."
Before it's here, it's on the Bloomberg Terminal.
LEARN MORE