Berkeley and San Francisco Take their Shot at Soda Taxes
Two new ballot measures would apply by-the-ounce taxes on sugary drinks.
by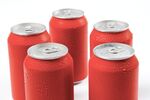 With their curbside composting programs, abundant community gardens, restaurants boasting sustainable cuisine, and neighborhoods like the Gourmet Ghetto teaming with organic food markets, there are few U.S. cities more preoccupied with liberal politics and food and drink than than Berkeley and San Francisco, Calif.. So, if there's anywhere in America that has a chance at passing soda taxes, it is those two Bay Area towns.
On Nov. 4, voters in Berkeley and San Francisco will decide whether to impose the kinds of taxes that have failed in more than 30 municipalities across the country. In Berkeley, Measure D would impose a penny-per-ounce tax on sodas and other sugar-sweetened drinks. San Francisco's ballot measure E would levy a two-cent-per-ounce on the sugary drinks.  Diet drinks would be exempt.
As witnessed in previous attempts to pass taxes or restrictions on sugary drinks elsewhere, drink manufacturers have not sat idly by.  The American Beverage Association, the lobbying group for the soda industry, has spent $7.7 million to defeat proposition E, and an additional $1.7 million to kill Measure D, campaign filings show. That money has been used to flood the airwaves with radio and television ads. 
No stranger to the soda wars, former New York Mayor Mike Bloomberg, founder and majority owner of Bloomberg Politics parent company Bloomberg LP, has donated $85,000 to Berkeley's Yes on D  campaign, and produced ads promoting the measure. 
In an editorial published Monday, the Oakland Tribune, which had opposed a similar soda tax in nearby Richmond, Calif., in 2012, supported Berkeley's Measure D:
We had hoped a less heavy-handed policy approach could be found. We urged a statewide solution that began with education.

 Toward that, we called this year for passage of state legislation, SB1000, requiring a warning label on sugary drinks. That bill languished in an Assembly committee, in part because of abstentions by two East Bay lawmakers, Susan Bonilla, D-Concord, and Rob Bonta, D-Alameda.

 We are no longer willing to allow the perfect to be the enemy of the good. We endorse Berkeley's Measure D, which would tax the distribution of sodas and other sugar-sweetened beverages by 1 cent per ounce, or 12 cents for a standard can of Coke.
Similarly, the San Francisco Chronicle, an opponent of what it termed Richmond's "poorly crafted" soda tax in 2012, has come out in favor of Proposition E.
Proposition E, which would impose a 2-cents-an-ounce surtax on soda and other sugar-laden drinks, would raise an estimated $30 million a year for physical education and nutrition programs. Those programs may prove every bit as important as price in leading young people to think about what they are doing to themselves when they consume a Super Big Gulp, which contains the equivalent of 35 teaspoons of sugar. 
The Libertarian Party of San Francisco, on the other hand, argues that the law imposes an unacceptable nanny state, and Californians for Food & Beverage Choice, a group formed by the American Beverage Association, questions the health benefits of such taxes. 
"What you put into it should be your choice." Roger Salzar, a spokesman for the CFBC, said in a statement.  "Our view basically is that beverage taxes aren't the solution for changing behaviors or teaching people about healthy lifestyles. A regressive tax on common grocery items like sugar-sweetened beverages in Berkeley won't make people any healthier, but it does have an impact on businesses and consumers who are already struggling to make ends meet."
 While no other U.S. city or town has successfully enacted a tax on sugary drinks, Mexico passed one that took effect in 2014.  A decline in soda sales has followed.  
Before it's here, it's on the Bloomberg Terminal.
LEARN MORE